EU Chief Says Over 100,000 Ukrainian Troops Have Been Killed in War With Russia; EU Cuts Statement From Her Speech
Chris Menahan
InformationLiberation
Nov. 30, 2022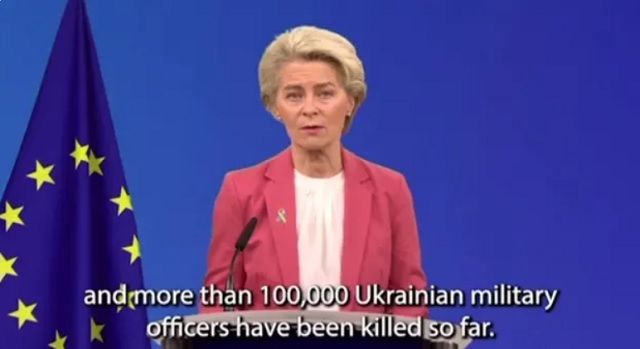 Ursula von der Leyen, the Head of the European Commission, made an address on Wednesday claiming that more than 100,000 Ukrainian troops have died in their war with Russia.

Von der Leyen said that it is estimated that "more than 20,000 civilians and 100,000 Ukrainian military officers have been killed so far" in the war.


The EU cut her comments on the dramatic death toll out of the video and removed the line from the transcript of her speech on their website.


Dana Spinant, Deputy chief spokeswoman and Director for Political Communication for the EU Commission, said the figures were an "estimation" from "external sources."

"Many thanks to those who pointed out the inaccuracy regarding the figures in a previous version of this video," Spinant said. "The estimation used, from external sources, should have referred to casualties, i.e. both killed and injured, and was meant to show Russia's brutality."


Earlier this month, US General Mark Milley estimated that 100,000 Ukrainian troops have been killed in the war.

Von der Leyen also said in her speech that the EU is planning to steal around $320 billion in Russian assets they froze and give it to Ukraine.

Follow InformationLiberation on Twitter, Facebook, Gab, Minds and Telegram.