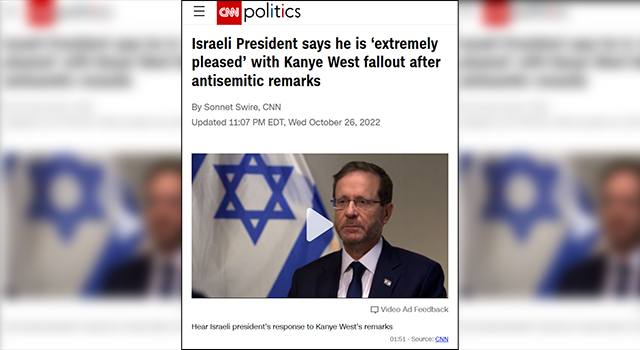 Israeli President Isaac Herzog went on CNN with Wolf Blitzer on Wednesday to announce he's "extremely pleased" with Kanye "Ye" West being canceled for making "anti-Semitic" remarks and revealed he personally met with President Biden at the White House to discuss Ye's "anti-Semitism."

From CNN, "Israeli President says he is 'extremely pleased' with Kanye West fallout after antisemitic remarks":

Israeli President Isaac Herzog on Wednesday said he is "extremely pleased" with the "overwhelming reaction" to recent antisemitic comments from rapper and fashion designer Ye, also known as Kanye West.

"We're all concerned by antisemitism all over the world. It's antisemitism, it's racist, it's racism, xenophobia – these are the challenges of the era, but history teaches us, usually it starts with hating Jews, with blaming Jews, with terrible rhetoric that people say," Herzog told CNN's Wolf Blitzer on "The Situation Room" when asked about antisemitism in the United States and the situation surrounding West.

"And that's why I'm extremely pleased, objectively, as an Israeli, and Jew, and human being – I'm extremely pleased to see this overwhelming reaction against the comments by Kanye West," he continued.

Herzog's response followed a bilateral meeting with President Joe Biden earlier Wednesday, during which the White House said Biden "condemned the persistent scourge of anti-Semitism," and came amid a corporate backlash against Ye for antisemitic comments and wearing a shirt with the slogan "White Lives Matter."
WATCH:



Herzog also awarded Joe Biden with the Israeli Presidential Medal of Freedom.



"I've often said, Mr. President, if there were — if there were not an Israel, we'd have to invent one," Biden told Herzog, praising "the irontad [sic]– -clad commitment the United States has to Israel based on our principles, our ideas, our values."

"They're the same values," Biden said.

Two weeks ago, HBO host Bill Maher asked former Israeli Prime Minister Benjamin Netanyahu if Israel was going to "retaliate" against Ye.



Netanyahu brushed the question off as "ridiculous" but now we learn Herzog personally met with Biden to discuss Ye and get the White House to condemn him.

On Monday, the Biden regime's Special Envoy to Monitor and Combat Antisemitism, Deborah Lipstadt, also came out and tacitly condemned Ye for his "hatred" and "antisemitism," which she said must be condemned by governments "unequivocally."


"I applaud the stance that various private companies and platforms have taken against anti-Semitism by ensuring their platforms are not used to spread hatred and by cutting ties and terminating lucrative business relationships with partners who engage in it," Lipstadt said in another statement on Wednesday, alluding to Ye's cancelation. "Corporations should continue to act responsibly and make it clear that inciting hatred is not profitable."


It's completely illegal for the White House to work together with private companies (not to mention foreign governments) to punish Americans for exercising their free speech rights but Lipstadt is clearly trying to get around that by referring to the incident using deliberately vague language that could provide the regime with plausible deniability in case Ye filed suit.

Follow InformationLiberation on Twitter, Facebook, Gab, Minds and Telegram.