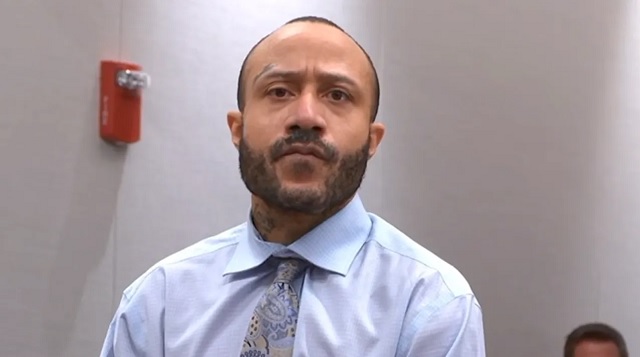 Darrell Brooks, the anti-white extremist who murdered six white people and injured dozens of others at a Christmas parade in Waukesha last year, was found guilty of six intentional first-degree homicide counts and a host of other charges on Wednesday.






From Fox News, "Darrell Brooks found guilty of first-degree intentional homicide in Waukesha Christmas parade massacre":

Darrell Brooks, the 40-year-old Milwaukee man accused of plowing a Ford Escape SUV through a Christmas parade in nearby Waukesha last year, has been found guilty of six intentional first-degree homicide counts and dozens of other charges — Wisconsin's equivalent of murder — in a trial over the deaths of six and injuries to dozens more.

Brooks made several objections over "subject matter jurisdiction" before the jury returned. Judge Jennifer Dorow invited the jurors back. Brooks made a series of requests for documents; Dorow said they were noted and denied.

The decision came Wednesday after a 23-day trial which saw the defendant, who was representing himself, ejected from the courtroom multiple times for disruptive behavior.

He attacked the credibility of witnesses on the stand, raised frivolous objections and at one point went on a 50-minute rant asserting that the court had a conflict of interest, and he had not been able to "face his accuser."

The paradegoers who Brooks killed on Nov. 21, 2021 were Jackson Sparks, 8; Tamara Durand, 52; Jane Kulich, 52; LeAnna Owen, 71; Virginia Sorenson, 79; and Wilhelm Hospel, 81.

"Burn in hell you piece of s---," someone yelled from the gallery before Dorow got to the jury's decision on the third murder charge. The judge ordered him out of the room.

It took Dorow roughly a half-hour to read through all of the jury's decisions. Afterward, she thanked and dismissed the jurors and entered judgments of conviction on all 76 counts.
Brooks had a lengthy criminal record and never should have been let out of prison in the first place but fighting "systemic racism" takes precedence over public safety in the New America™.

The trial was a farcical display with Brooks being permitted to go on endless tirades and make a mockery of the court.



Apologists for the judge say she went out of her way to ensure a fair trial to lessen his chance of a successful appeal.

Jack Posobiec noted that no evidence came out in court that he was "speeding from a police chase" before the slaughter as the media claimed.


As I noted at the time, that narrative only came out after the FBI came on scene to help "investigate."

As a reminder, Brooks called himself a terrorist in his rap videos and made dozens of anti-white posts on social media but the Anti-Defamation League -- who works intimately with the FBI -- put out a statement claiming he was not a follower of any "extremist ideology."




"According to our experts, the suspect who drove into a Christmas parade in Waukesha. WI, killing 6 & injuring dozens more shared antisemitic content on social media in 2015, but he does not appear to actively subscribe to an extremist ideology," the Anti-Defamation League said last year.

You can share endless anti-white content on social media, threaten white people with violence and call yourself a "terrorist" in your own music videos before running down nearly 70 of them but as long as you're not "antisemitic" the ADL will not label you an "extremist."

Follow InformationLiberation on Twitter, Facebook, Gab, Minds and Telegram.