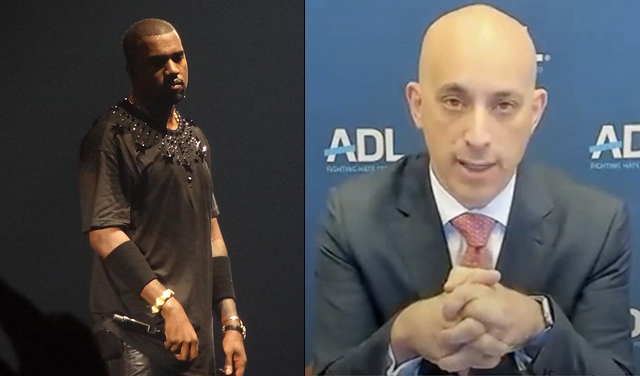 Adidas announced on Tuesday morning that they're formally ending their partnership with Ye, formerly known as Kanye West, for violating their company's "values of diversity and inclusion."

From Bloomberg, "Adidas Cuts Ties With Ye, Absorbing €250 Million Hit to Profit":

Adidas AG will absorb a hit to earnings of up to €250 million ($247 million) to end its partnership with Ye following a rash of offensive behavior from the rapper and designer that turned a once-thriving shoe brand into a lightning rod for criticism.

The German sports company said it's cutting ties with Ye, formerly Kanye West, with immediate effect, confirming an earlier story by Bloomberg News. By way of comparison, the blow to earnings this year would be equivalent to about a sixth of last year's net income from continuing operations.

"Ye's recent comments and actions have been unacceptable, hateful and dangerous, and they violate the company's values of diversity and inclusion, mutual respect and fairness," the company said in a statement.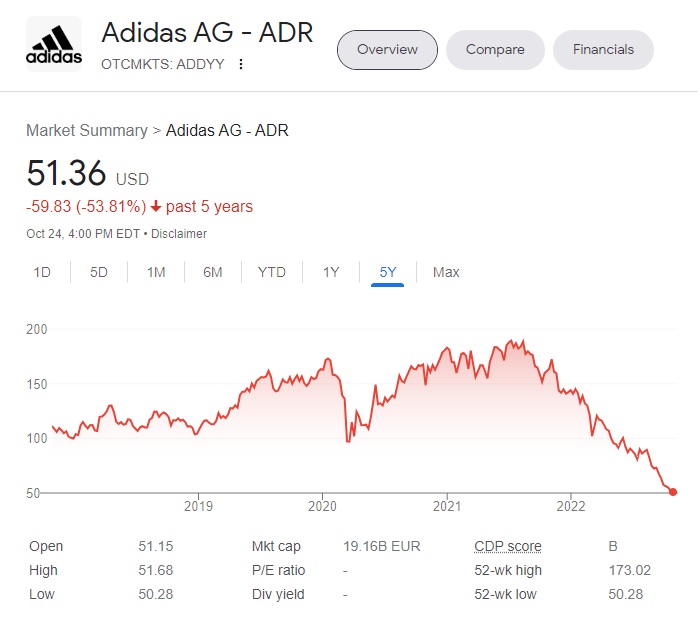 Adidas will terminate the partnership with Ye, end production of Yeezy branded products and stop all payments to Ye and his companies, it said.

Adidas joins Gap Inc. and Kering SA's Balenciaga fashion label in severing links with Ye. The rapper has made controversial statements, including antisemitic social media posts in recent weeks, and has moved to cut ties with his corporate partners. Ye didn't respond to a request for comment.
Ye is considered to have single-handedly made Adidas a success in the US market. As Adidas was already struggling, this move may literally end their 98-year-old company for good.
Adidas shares, already weighed down by the controversy, fell as much as 5.8% in Frankfurt trading, reaching the lowest since 2016.

The Adidas decision follows weeks of deliberations inside the company, which over the past decade has built the Yeezy line -- together with Ye -- into a brand that's accounted for as much as 8% of Adidas's total sales, according to several estimates from Wall Street analysts.

The German company said it's the "sole owner of all design rights to existing products, as well as previous and new colorways," under the partnership. It plans to offer more details as part of third-quarter earnings on Nov. 9.

Adidas earlier this month had called the partnership "one of the most successful collaborations in our industry's history" and said it would continue co-managing Yeezy products during its review.
The move to end their partnership with Ye comes after Anti-Defamation League CEO Jonathan Greenblatt wrote a letter to Adidas demanding they cut ties with Ye.

Greenblatt also accused Adidas of being Nazis and said they're a "danger to Jews."




The Biden regime's Special Envoy To Monitor and Combat Antisemitism, Deborah Lipstadt, also came out and tacitly condemned Ye for his "hatred" and "antisemitism," which she said must be condemned by governments "unequivocally."


Greenblatt celebrated Adidas' move to drop Ye on Tuesday and took credit for having "pressured Adidas toward this decision."


"This is a very positive outcome," Greenblatt said. "It illustrates that antisemitism is unacceptable and creates consequences. Without a doubt, Adidas has done the right thing by cutting ties with Ye after his vicious antisemitic rants. We were proud to see many joined ADL's campaign, #RunAwayfromHate, that pressured Adidas toward this decision, including the thousands of people who sent emails, the dozens of celebrities who spoke up, and the prominent brands who cut ties. Taken together, all these elements sent an unambiguous signal that moved the company to take action. In the end, Adidas' action sends a powerful message that antisemitism and bigotry have no place in society."


Ye said on Friday that powerful Jews demanding he be canceled and put out of work had "proven the exact point that I made."

[This post has been updated with Adidas's official confirmation.]

[Left-side header image of Ye by Pieter-Jannick Dijkstra via Flickr commons, CC BY 2.0, Composite, right-side image of Greenblatt screenshot from congressional testimony.]

Follow InformationLiberation on Twitter, Facebook, Gab, Minds and Telegram.