With UK Royal Air Force 'Pausing' Job Offers For White Men to Meet 'Diversity Targets,' RAF Pilots Hired by China For $270K a Year
Chris Menahan
InformationLiberation
Oct. 20, 2022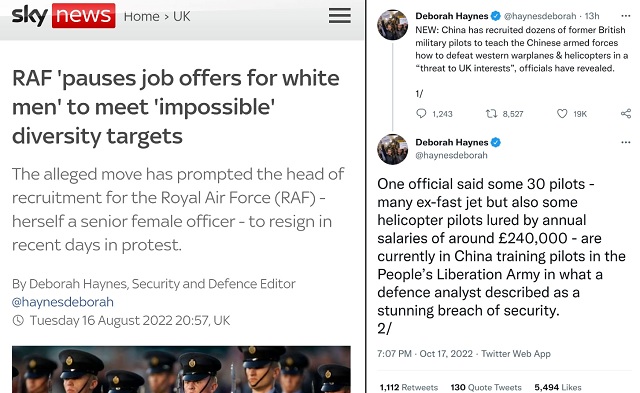 The UK Royal Air Force reportedly "paused" the hiring of white men in favor of "women and ethnic minorities" to hit "diversity targets" earlier this year, prompting the head of recruitment for the Royal Air Force to resign in disgust.

"The defence sources accused Air Chief Marshal Sir Mike Wigston, the head of the RAF, of appearing willing to compromise UK security at a time of growing threats from Russia and China in pursuit of albeit important goals such as improving diversity and inclusion," Sky News reported in August.

On Tuesday, Sky News reported that RAF pilots are being hired by China and getting paid £240,000 (~$270,000 USD) to train pilots for the People's Liberation Army.


From Sky News, "China's armed forces recruiting dozens of British ex military pilots in 'threat to UK interests'":

China has recruited dozens of former British military pilots to teach the Chinese armed forces how to defeat western warplanes and helicopters in a "threat to UK interests", officials have revealed.

One official said some 30 mainly ex-fast jet but also some helicopter pilots - lured by annual salaries of around £240,000 - are currently in China training pilots for the People's Liberation Army, in what a defence analyst described as a stunning breach of security.
Despite the media's hysterics, there's no evidence any of these pilots committed a crime.
The situation is so grave, the Ministry of Defence's Defence Intelligence service on Tuesday issued a "threat alert" to warn serving and former military personnel against such approaches.

Armed Forces Minister James Heappey told Sky News' Kay Burley the recruitment of UK pilots to train Chinese counterparts had been a concern within the Ministry of Defence "for a number of years".

Personnel already in China have been approached and advised against continuing such work, he said.

Mr Heappey said the law will be changing to make it illegal to ignore such warnings in future.

"Don't go and train foreign air forces without checking with the MOD whether they are a foreign air force we want to see you train - would be a good rule," he said.
Don't systemically discriminate against your own people would be a good rule.

Despite the potential for harm to national security, the UK appears to have been powerless to stop the recruitment schemes or to force the former service personnel, who have accepted jobs in China, to return home - beyond appealing to them.
They sure as hell won't do that! They're all white privileged oppressors!

Instead, they're planning to threaten them with prison:

The Ministry of Defence said it was working to make it much harder for China to poach British military talent.

"We are taking measures to dissuade current and former pilots from being recruited, and we want to avoid any perception by China that our previous silence on this matter is misinterpreted as our acceptance or approval of this activity," the western official said.

[...] As an amendment to the National Security Bill, the Foreign Influence Registration Scheme will require anyone who is hired by a foreign government to declare their activity or risk prosecution as part of efforts to clamp down on espionage and malign influence operations.
This is all happening under a "Conservative" government.

The UK has truly earned its title as "Cuck Island!"

Follow InformationLiberation on Twitter, Facebook, Gab, Minds and Telegram.