Jan 6 Committee Votes to Subpoena Trump Ahead of the Midterms
Chris Menahan
InformationLiberation
Oct. 13, 2022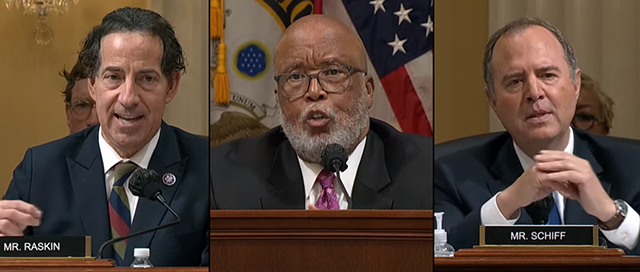 The political hacks on the January 6th Committee on Thursday unanimously voted to subpoena former President Donald Trump in a bid to interfere in the midterm elections.


"A source familiar with the committee's plans told NBC News the panel plans to issue the subpoena in the coming days," NBC News reported.

"Why didnít the Unselect Committee ask me to testify months ago?" Trump said in a post on Truth Social. "Why did they wait until the very end, the final moments of their last meeting? Because the Committee is a total 'BUST' that has only served to further divide our Country which, by the way, is doing very badly - A laughing stock all over the World?"

"The Unselect Committee knowingly failed to examine the massive voter fraud which took place during the 2020 Presidential Election - The reason for what took place on January 6th," he said in a follow-up post.

"Why didnít Crazy Nancy Pelosi call out the 'troops' before January 6th, which I strongly recommended that she do. It was her responsibility, but she 'didn't like the look.' Crazy Nancy failed the American People!" Trump said.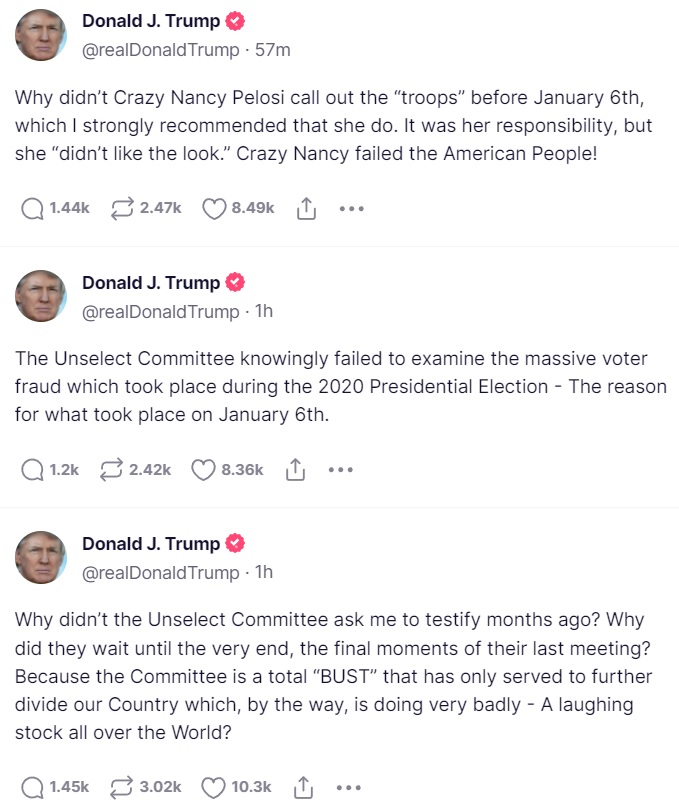 In an opinion piece by Christopher Caldwell, the New York Times admitted earlier on Thursday that the Jan 6 Committee "has been almost wholly ineffective."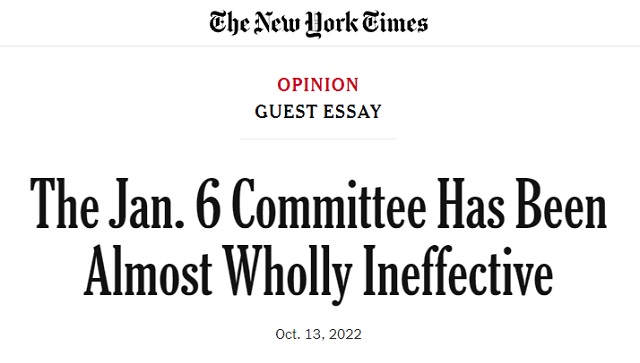 "A Monmouth University poll taken this summer during the committee's hiatus found public opinion largely unchanged ó even calcified, to use a word that has lately come into vogue among American political scientists," Caldwell said. "The 65 percent of Americans who in late June remembered Jan. 6 as a 'riot' had become 64 percent a month later when the summer hearings ended. Twenty-nine percent thought Joe Biden had been fraudulently elected before, and 29 percent did after."

"You can blame Republicans for nominating Trump defenders to the committee or Democrats for freezing them out, but the fact is the committee has seven Democrats and two Republicans, Liz Cheney of Wyoming and Adam Kinzinger of Illinois, both in open rebellion against their Trumpified party (and both now on their way out of Congress)."

They're now doubling-down on their corrupt, partisan hackery to try and rig the midterms.

Follow InformationLiberation on Twitter, Facebook, Gab, Minds and Telegram.