JP Morgan Chase Closes Kanye West's Bank Account in Wake of Politically Incorrect Comments
Chris Menahan
InformationLiberation
Oct. 12, 2022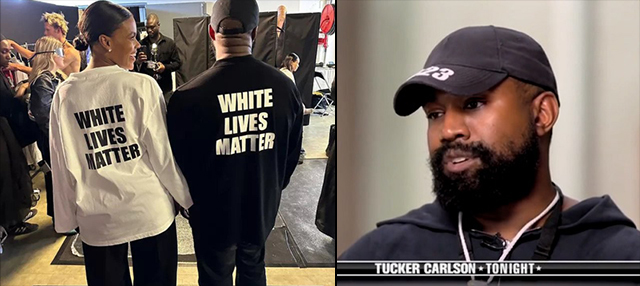 Candace Owens on Wednesday shared a letter from JP Morgan Chase bank sent to Kanye West announcing that they are closing his company's bank accounts.

"Earlier today I learned that @kanyewest was officially kicked out of JP Morgan Chase bank," Owens said. "I was told there was no official reason given, but they sent this letter as well to confirm that he has until late November to find another place for the Yeezy empire to bank."


"I have blacked out the names of the other two people on his team that are named in this letter to protect their privacy," she said in a follow-up post. "As I gather my thoughts about this, I want to say that I do not care what you think about Ye West— but I very much care what you think about this."


"We have reached extremely frightening times in this country," Owens said.

Ye was canceled last week for wearing a "White Lives Matter" shirt and making comments critical of Jewish people.

"You guys have toyed with me and tried to black ball anyone whoever opposes your agenda," Ye said in a now-deleted tweet threatening to go "death con 3 On JEWISH PEOPLE."

"Who you think created cancel culture?" Ye said in a follow-up post.


The Jewish activist groups the Anti-Defamation League and Stop Antisemitism called for Ye to be canceled in response.





Both Ye's Twitter and Instagram accounts were locked, Adidas announced their partnership with his company was "under review," and now his bank account is being closed.

Ye has not been accused of any crime, he has only been accused of making politically incorrect comments. Ye is one of the richest people in the world with a net worth estimated at anywhere from $2 to $6.6 billion and yet he can't even have a bank account because of his political views?

Convicted rapists and murderers can have bank accounts without getting "canceled" but Ye cannot because he's "anti-Semitic"?

Follow InformationLiberation on Twitter, Facebook, Gab, Minds and Telegram.