MSNBC Guest Says Christians Raising Hands in Prayer is a 'Nazi Salute,' NY State Senator Compares Prayer to The Holocaust
Chris Menahan
InformationLiberation
Sep. 21, 2022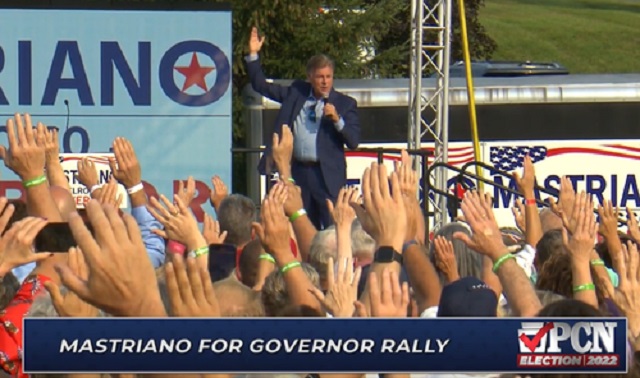 A new form of "Nazism" just dropped.

From Zero Hedge, "MSNBC, CNN Guest Roasted After Calling Evangelical Prayer-Hands 'Nazi Salute' ":

A lawyer and recurring guest on MSNBC and CNN has come under fire after claiming in a viral tweet that Doug Mastriano supporters were giving 'a Nazi salute' during a Sunday campaign rally in Chambersburg, Pennsylvania.

Evangelical leader Lance Wallnau asked the crowd to rise, and asked them "if a proclamation can be a spiritual thing," before asking them to raise their hands for a prayer rally in support of Mastriano's run for PA Governor.

"Can you say what they said at Gettysburg? 'When you see us lined up as one, sweep down the hill to victory,'" Wallnau prompted the crowd, before beginning the prayer: "Father I pray, that indeed Pennsylvania will be like Little Round Top, and America will have a new birth of liberty."

Attorney and frequent MSNBC guest Tristan Snell commented on the clip, which now has 3.6 million views, saying "Yes, this is a Nazi salute, at a Doug Mastriano campaign event in Pennsylvania. In 2022," adding "Democracy is literally on the ballot in November."


Watch the entire clip below:



[...] And of course, the Lincoln Project went with the 'Nazi salute' thing and turned it into an anti-Mastriano ad.


Twitter was fine with letting this pure disinformation spread.

New York state Senator Anna Kaplan said seeing Christian raise their hands in prayer reminded her of the Holocaust.

From NYSenate.gov:

Following rallies held this weekend by former President Donald Trump and Republican Gubernatorial Candidate Doug Mastriano of Pennsylvania, where supporters were instructed to salute in a manner not seen since the "Heil Hitler" salute used by the Nazis, Senator Anna M. Kaplan (D-North Hills) issued the following statement:

Senator Anna M. Kaplan said last night at a rally held by the former President, and today at a political rally held by a candidate for Governor of Pennsylvania, supporters were urged to hold up their right hands in a unified salute that should shock the conscience of every American for its remarkable similarity to the "Heil Hitler" salute used by the Nazis.

I talk a lot about the importance of learning the history of the Holocaust -- so that we don't repeat history's darkest chapter ever again -- and the horrifying images from these events remind us that we have a lot more work to do yet.

I call on every American to join me in sharply denouncing the use of Nazi symbolism and imagery anywhere in our political process, and I call on these campaigns to immediately end the use of this shocking salute in their rallies."
You hear that, Christians?

Mrs. Kaplan here thinks you praying is a form of Nazism.

The regime is pulling out all the stops to smear Doug Mastriano and get Josh Shapiro elected.

Follow InformationLiberation on Twitter, Facebook, Gab, Minds and Telegram.