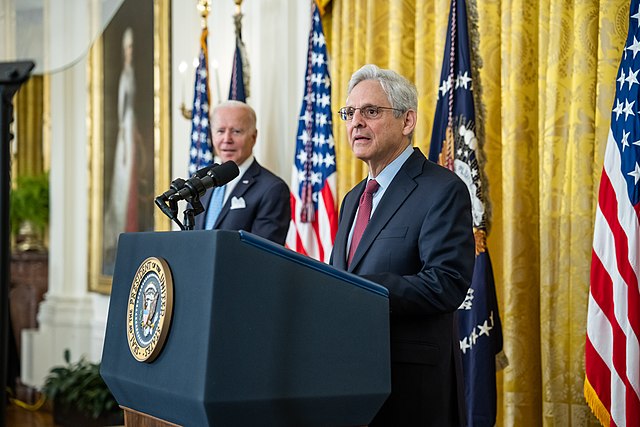 The Department of Justice's wide-reaching warrant justifying the raid of former President Donald Trump's Mar-a-Lago home was released on Friday.

The warrant was signed off on by Jeffrey Epstein-linked Florida federal magistrate judge Bruce Reinhart, who reportedly went from "prosecuting" Epstein with kid gloves to representing his associates and securing them immunity from prosecution.

The warrant lists 28 items to be seized, including documents related to the "Executive Grant of Clemency re: Roger Jason Stone, Jr."



Search Warrant Mar a Lago by Breitbart News


From Breitbart, "Exclusive: Warrant Shows DOJ, FBI Waited Several Days After Judge Approved to Conduct Mar-a-Lago Raid":

The warrant that authorized the search of former President Donald Trump's residence at Mar-a-Lago shows it was issued by U.S. Magistrate Judge Bruce Reinhart on Aug. 5, 2022, at 12:12 p.m.—nearly three full days before the Justice Department and FBI conducted a raid to execute it.

The raid did not occur until the morning of Aug. 8, 2022, when federal agents from the FBI arrived at Mar-a-Lago to execute the search warrant.

The document, obtained and reviewed by Breitbart News, shows that the DOJ and FBI waited several days after Reinhart approved the warrant to conduct the raid, something that severely undercuts the talking points issued by Attorney General Merrick Garland in a public statement on Thursday when he broke his silence to discuss the matter in televised remarks.

Why the authorities waited several days to execute service of the warrant if the matter rose to such a serious national security issue is unclear. If what federal agents intended to obtain from the raid was such a risk to national security, the fact they decided to linger and wait for several days before executing is likely to become a major point of contention as this debate plays out in front of the public.

[...] The first receipt lists out 28 numbered items, including some that have sub-headers. Some of the items are actually named like item number 1 which says it was an "Executive Grant of Clemency re: Roger Jason Stone, Jr." or 1A which says it is "Info re: President of France."

Others like item number 2 are less specific. That item says it is a "Leatherbound box of documents." Item 2A says it contained "Various Classified/TS/SCI documents."

Item number 3 says it was a "potential presidential record," and items numbers 5 and 6 both say they were a "binder of photos."

Item number 7 says it was a "handwritten note," and items 8, 9, and 10 were boxes labeled A-1, A-12, and A-15 respectively. Item 10A specifies that that item allegedly contained "Miscellaneous Secret Documents."

The rest of the receipt document is similar and unspecific—explaining that several boxes, some allegedly containing various documents of various classifications—were among the rest of the items the FBI seized per this receipt.
"The warrant shows federal law enforcement was investigating Trump for removal or destruction of records, obstruction of justice and violating the Espionage Act — which can encompass crimes beyond spying, such as the refusal to return national security documents upon request. Conviction under the statutes can result in imprisonment or fines," Politico reported.

This is further confirmation their goal is to disqualify Trump from running in 2024.

Trump said on Truth Social the "Nuclear weapons issue is a Hoax, just like Russia, Russia, Russia was a Hoax, two Impeachments were a Hoax, the Mueller investigation was a Hoax, and much more."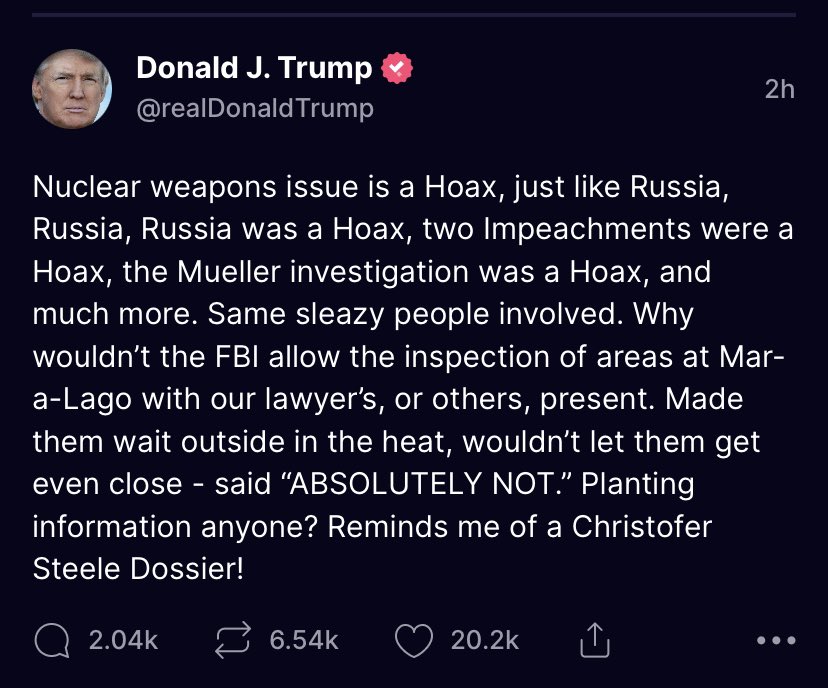 He also said all the documents were declassified and they didn't have to "seize" anything.

"They could have had it anytime they wanted -- and that includes LONG ago," Trump said. "ALL THEY HAD TO DO WAS ASK."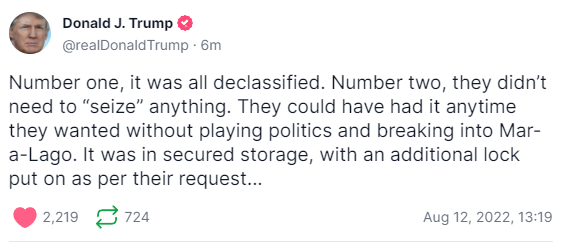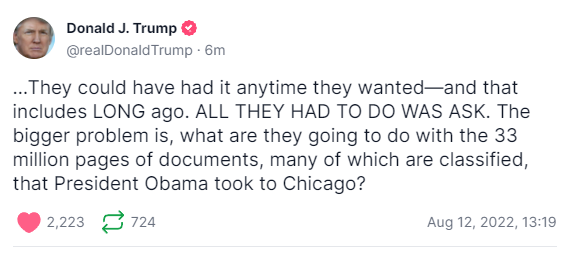 Follow InformationLiberation on Twitter, Facebook, Gab, Minds and Telegram.