Fox News 'Banning' Trump From Network, Aggressively Shilling DeSantis
Chris Menahan
InformationLiberation
Jul. 31, 2022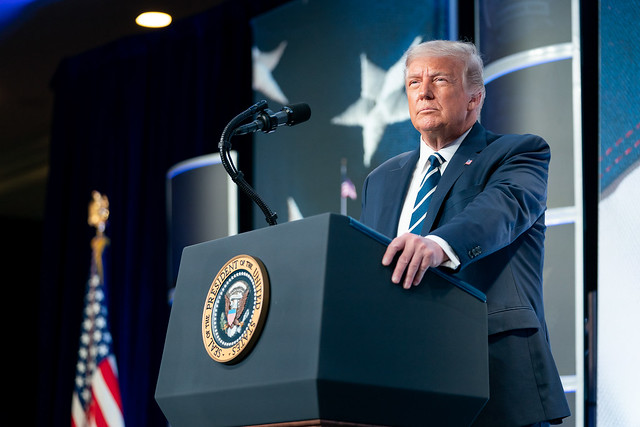 Fox News hasn't had former President Donald Trump on their network in over 100 days and have begun aggressively shilling for Florida Governor Ron DeSantis to replace him.

From Newsmax, "Fox News Banning Trump From Network":

The New York Times reported Friday that Fox News has not had Donald Trump on its network in over 100 days, which the paper said was part of a larger strategy to eliminate the former president as a major GOP player.

Trump's last appearance on Fox News came April 13 on "Hannity."

But, The Times noted, even Trump has complained his longtime friend "doesn't seem to be paying him much attention anymore."

The paper said Trump believes Fox's strategy of shunning him is an effort in "effectively displacing him" from the news cycle and as de facto leader of the Republican Party.

The decision to shun Trump has been made at "the highest levels" of Fox's parent company, and is backed by its billionaire chairman, Rupert Murdoch, and his son, company CEO Lachlan Murdoch.
They're probably the same ones who made the decision to run a Fox News segment for "Pride Month" endorsing trangenderism and child sex changes.
Both are Republicans, but are said to have to developed a strong distaste for Trump.

Earlier this month, the Murdoch-owned newspapers the New York Post and The Wall Street Journal published harsh rebukes of Trump's actions regarding Jan. 6 while strongly opposing a Trump bid for president in 2024.

The Times said Trump's failure to accept the 2020 election result was at the root of the Murdochs' criticism of the former president, a view shared by Senate Minority Leader Mitch McConnell, R-Ky.
As Newsmax noted, two weeks ago FoxNews.com ran a three minute propaganda video posing as man-on-the-street interviews "with Trump 'supporters' who did not want him to run again and 'unanimously' backed DeSantis for 2024."



If you listen carefully to the Trump "supporter" at the 1:13 mark, you can hear they spliced in him saying "I don't think it would be best for our country for him to run for reelection" at the 1:18 mark.

They cut away from his face and ran B-roll footage to hide the edit. The audio levels are different and those comments were said closer to the mic, perhaps in post production or after the initial interview took place.


Fox News opposed Trump in 2016 when it mattered and right before the 2020 election the Daily Beast reported that Rupert Murdoch was predicting Trump will lose "in a landslide."

The Daily Beast credited "three people who have spoke with Murdoch" for the scoop but I suspect Murdoch just gave them the story himself.

Trump's top allies told Axios earlier this month he plans a "purge" of the deep state if reelected and will right the wrongs he made during his first term in office.


Follow InformationLiberation on Twitter, Facebook, Gab, Minds and Telegram.