Howard Schultz, Starbucks CEO Who Led The Great Awokening, Forced to Close Stores Because 'America Has Become Unsafe'
Chris Menahan
InformationLiberation
Jul. 20, 2022


Starbucks CEO Howard Schultz is running away from the "woke" policies he wholeheartedly embraced four years ago now that the crime wave he helped spawn is affecting him personally.

Four years ago, Schultz made the decision to open Starbucks' bathrooms to all after two black men were arrested at one of his stores in Philly for demanding to use their bathrooms without making a purchase and then refusing to leave in protest.

"We don't want to become a public bathroom, but we're going to make the right decision a hundred percent of the time and give people the key," Schultz said at the time, "because we don't want anyone at Starbucks to feel as if we are not giving access to you to the bathroom because you are less than."

Schultz swiftly rolled out new "racial sensitivity" training which involved forcing Starbucks employees to watch "video after video" of white cops attacking black people.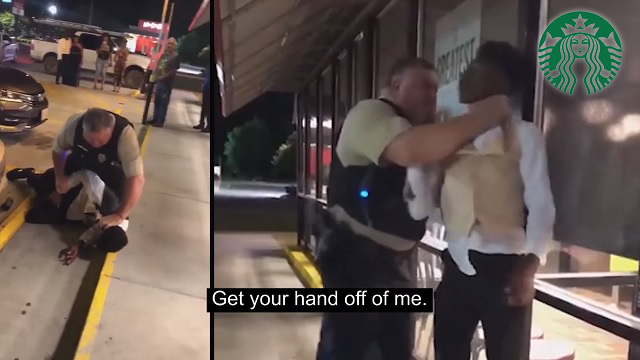 "At one point, a girl at my table actually had to get up and leave because video after video they showed black people being assaulted by police or black people being verbally assaulted and white people being racially biased toward people of color," one Starbucks employee forced to go through Schultz' brainwashing session reported. "It offended her. She left after that."

Other employees expressed similar disgust and questioned how the bathroom incident in Philly had anything to do with police brutality.

Starbucks' open bathroom policy turned out to be a complete disaster with drug addicts flooding in to use their restrooms as heroin dens.

Starbucks announced last week that they were closing 16 stores as a result of "incidents related to drug use and other disruptions," the Wall Street Journal reported.

Now, Schultz is running away from the policies he advocated for -- taking zero personal responsibility -- and instead blaming woke "leaders" at "the local, state, and federal level" for "abdicating their responsibility in fighting crime."

"In my view at the local, state, and federal level, these governments across the country and leaders, mayors, and governors and city councils have abdicated their responsibility in fighting crime and addressing mental illness," Schultz said in leaked video from an internal company meeting last week.



"I don't have to spend too much time on what's going on in the country and how America has become unsafe, but you all read the press release the last couple of days about the fact that we are beginning to close stores that are not unprofitable," Schultz said. "It has shocked me that one of the primary concerns that our retail partners have is their own personal safety. And then we heard the stories about what happens in our bathrooms, the issues with mental illness, homelessness and crime."

"Starbucks is a window into America, we have stores in every community... we are facing things in which the stores were not built for. We're listening to our people and closing stores, and this is just the beginning. There are going be many more."

Howard Schultz is a window into our ruling oligarchs. He was one of the first to push all this anti-white woke bulls**t on his employees and the general public but now that it has affected him personally he wants police to crack the whip!

[Header image by Gage Skidmore, CC BY-SA 2.0]

Follow InformationLiberation on Twitter, Facebook, Gab, Minds and Telegram.