Biden Signs Pledge With Israel to 'Never Allow Iran to Acquire Nuclear Weapons'
Chris Menahan
InformationLiberation
Jul. 14, 2022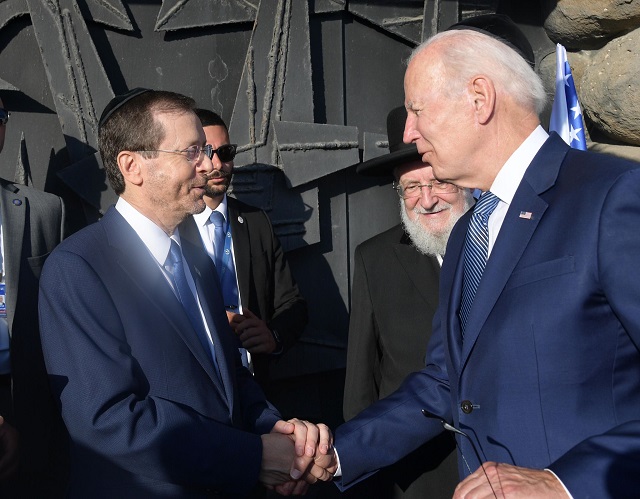 Biden traveled to Israel this week to sign a pledge to "never allow Iran to acquire nuclear weapons" and commit our military to another potential war.





From Reuters, "U.S., Israel sign joint pledge to deny Iran nuclear weaponry":

U.S. President Joe Biden and Israeli Prime Minister Yair Lapid signed a joint pledge on Thursday to deny Iran nuclear arms, a show of unity by allies long divided over diplomacy with Tehran.

The undertaking, part of a "Jerusalem Declaration" crowning Biden's first visit to Israel as president, came a day after he told a local TV station that he was open to "last resort" use of force against Iran - an apparent move toward accommodating Israel's calls for a "credible military threat" by world powers.

"We will not allow Iran to acquire a nuclear weapon," Biden told a news conference following the signing of the declaration.
As I reported last month, Biden is preparing America for three simultaneous wars with Russia, China and Iran.



I can't find the full text of the "joint pledge" anywhere but CBS is reporting it also included a line about rejecting the Boycott, Divestment and Sanctions movement.



Biden also bashed the "few" Democratic reps who criticize Israel and want to cut off US aid.


His comments earned plaudits from ADL head Jonathan Greenblatt.


Greenblatt said he can't stop thinking about it.


Biden will apologize for America all day but he won't apologize for supporting Israel.

Just last week, the Biden regime covered-up the targeted assassination of American-Palestinian journalist Shireen Abu Akleh at the hands of an IDF sniper by claiming it was likely accidental (she was wearing a giant "PRESS" vest).


Biden will support the boycotting of US states like Georgia but boycotting the foreign state of Israel must be outlawed!

Follow InformationLiberation on Twitter, Facebook, Gab, Minds and Telegram.