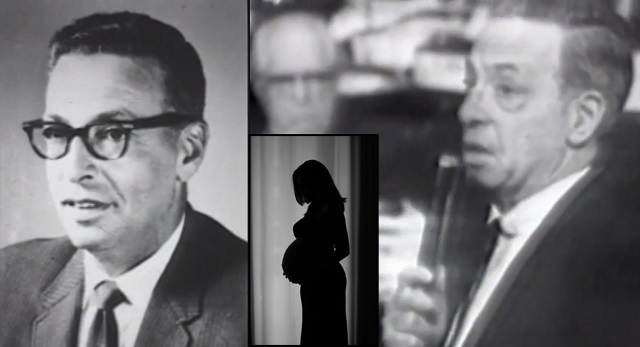 Abortion was legalized in New York as a result of Jewish legislator George Michaels, who represented a "heavily Catholic district," voting against the will of his constituents to please his Rabbi son and daughter-in-law, the Jewish Daily Forward reports.

Michaels knew his decision to force his religion on his overwhelmingly Catholic constituents would cost him his political career but said, "If I am ever going to have peace in my family ... I cannot go back to [them] on the first night of Passover and tell them that George Michaels defeated this bill."

From The Jewish Daily Forward, "How a Jewish legislator's vote legalized abortion in New York in 1970":

George M. Michaels was a Jewish legislator representing a heavily Catholic district in New York when efforts to legalize abortion in the state came to a head in April 1970. Priests and nuns paced the chamber floor; Michaels' daughter-in-law and one of his sons, who was in rabbinical school, urged him to vote yes.

With tears in his eyes, knowing he would lose Democratic Party support for the next election, Michaels cast the deciding "yes" vote.
"If I am ever going to have peace in my family ... I cannot go back to [them] on the first night of Passover and tell them that George Michaels defeated this bill," he told the stunned chamber.

More than 50 years later, Michaels' son, the rabbi, and his granddaughters reflected on his legacy and the ramifications of that fateful vote.
Jewish groups responded to the Supreme Court overturning Roe v. Wade by joining with Satanists to insist legal abortion "is necessary for the practice of their religion."


From LifeSiteNews, "Jewish groups adopt same strategy as Satanists, demand legal abortion based on 'religious freedom'":

 In an apparent new strategy seeking to maintain the decriminalization of preborn child killing, a south Florida synagogue filed a lawsuit against the State of Florida's new 15-week abortion ban arguing that it violates the "religious freedom" of Jews.

The L'Dor Va-Dor Congregation of Boynton Beach filed the complaint in Florida's 2nd Circuit Court on June 10 seeking to impede the enforcement of HR 5, which was signed into law by Gov. Ron DeSantis on April 14 and goes into effect on July 1.

According to the filing, since Jewish law sometimes requires an abortion, the new Act impedes Jews from practicing their religion:

In Jewish law, abortion is required if necessary to protect the health, mental or physical well-being of the woman, or for many other reasons not permitted under the Act [HR 5]. As such, the Act prohibits Jewish women from practicing their faith free of government intrusion and thus violates their privacy rights and religious freedom.

The plaintiffs go on to assert that their congregants and others "who do not share the religious views reflected in the Act will suffer additional irreparable harm by having their religious freedom under the Florida Constitution violated."

The lawsuit also declares that HR 5 "threatens the Jewish people by imposing the laws of other religions upon Jews."
From LifeSiteNews, "Satanic Temple demands 'religious freedom' for 'abortion ritual' after Roe falls":

In recent years, Satanists have argued that any restriction to the killing of preborn children violates their religious beliefs. In 2015, the Satanic Temple filed a federal lawsuit against Missouri, claiming that state laws restricting abortion violate their "free exercise" of Satanism.

In 2020, they launched a campaign titled "Satanic Abortions Are Protected by Religious Liberty Laws," and in the wake of the landmark Dobbs decision on Friday they reiterated their intention to circumvent the resulting restrictions to abortion in many places calling itself "the leading beacon of light in the battle for abortion access."


Seeking to exploit this same constitutional principle to accomplish the same end of unrestricted abortion, over 140 Jewish organizations, including the Anti-Defamation League, sponsored a May 17 "Jewish Rally for Abortion Justice" publicly affirming "abortion access is a Jewish value" and "banning abortions is a religious freedom issue."
Thanks to the Supreme Court, in dozens of conservative states these groups are now blocked from imposing their religion on the rest of us.

Follow InformationLiberation on Twitter, Facebook, Gab, Minds and Telegram.