Video Shows Police Were Inside Uvalde School With Ballistic Shields And Rifles But Waited An Hour to Engage Shooter
Chris Menahan
InformationLiberation
Jun. 20, 2022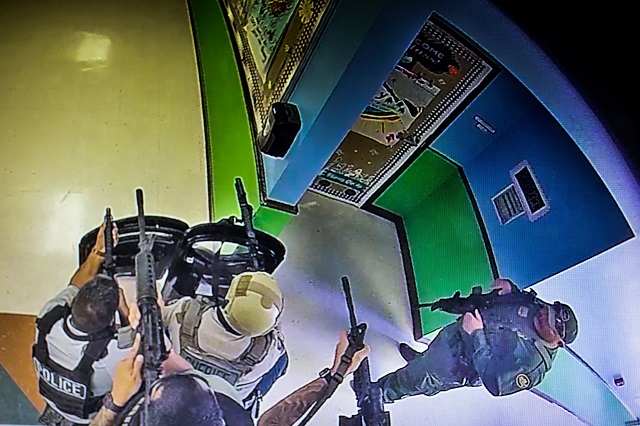 Newly released video stills from inside Robb Elementary School in Uvalde show police were armed to the teeth with rifles, body armor and ballistic shields but waited 58 minutes before engaging the shooter and killing him.



From Austin American-Statesman, "Exclusive: Officers arrived at Uvalde school with rifles, ballistic shield 19 minutes after gunman":

Multiple police officers stood in a hallway at Robb Elementary School armed with rifles and at least one ballistic shield within 19 minutes of a gunman arriving at the campus, according to documents reviewed by the American-Statesman, a devastating new revelation deepening questions about why police didn't act faster to stop the shooter who killed 19 children and two teachers last month.

Even as officers with high-powered weapons and ballistic shields massed inside the blue and green hallway, the gunman could be heard firing rounds — including at 12:21 p.m., 29 minutes before officers entered the classroom and killed him.

Investigators say the latest information indicates officers had more than enough firepower and protection to take down the gunman long before they finally did.
The Texas Tribune shared a rundown of what the video shows:

At 11:33 a.m. on May 24, he walked into Robb Elementary's northwest entrance and headed south toward the two classrooms on the left side, randomly firing shots from his rifle in the hallway. He had crashed his car and fired some shots outside, so the school was already on lockdown at that point and the hallways were nearly empty. No one was hit, but a boy could be seen peeking around the corner at the northeast end of the hallway, apparently trying to return to class from a nearby bathroom. The boy heard the gunfire and ran away. (DPS confirmed that he escaped without physical injury.)

Within a minute, the shooter entered classroom 111 — he didn't appear to encounter a locked door in the footage — and began shooting. He briefly walked out the classroom door and then went back in, shooting some more. For the next three minutes, he fired frequently inside a classroom filled with children.

During that burst of gunfire, the first three officers entered the school: two from the Uvalde Police Department and one from the school district's force. All were carrying handguns.

Moments later, Arredondo and seven more officers arrived. The shooter opened fire at the first three officers closest to the two classrooms, grazing two and forcing all the officers to bolt to either end of the hallway. Those officers, including Arredondo, remained in these positions for the rest of the standoff, never firing a shot.
Americans need to have all their guns taken away so that cops can stand around and wait while our children are massacred and take a knee while our cities burn.

Follow InformationLiberation on Twitter, Facebook, Gab, Minds and Telegram.