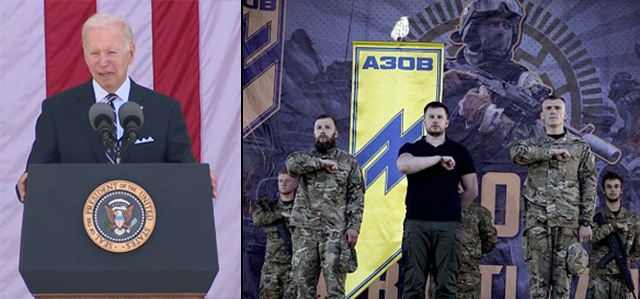 This Memorial Day, we must remember the valiant sacrifice of the Azov Battalion.

From The Daily Mail, "'Democracy is not perfect... but it's worth fighting for': Biden pays tribute to Beau, Ukraine and the U.S. troops who died in Afghanistan and Iraq after laying a wreath at Arlington Cemetery's Tomb of the Unknown Soldier":

President Joe Biden championed the ideals of democracy and took time to reflect on the loss of his son Beau Biden and the losses of families across the country who have lost loved ones in the military in a Memorial Day speech at Arlington National Cemetery on Monday.

Looking abroad the president also paid tribute to Ukraine's defenders fighting against a Russian invasion and the American service members who died during the United States' 20-year war in Afghanistan and in Iraq.

He made no mention, however, of the recent military deaths under his administration - including the 13 service members who were killed in Afghanistan during a suicide attack amid the military's withdrawal from the country.

'Ladies and gentlemen, today remember and we reaffirm freedom is worth the sacrifice,' Biden said after laying a wreath at the Tomb of the Unknown Soldier.

'Democracy is not perfect. It's never been perfect. But it's worth fighting for - if necessary, worth dying for.'

Remarking on the seventh anniversary of his eldest child's death, the president continued: 'Memorial Day is always a day where pain and pride are mixed together. We all know it, sitting here. Jill and I know it. Today is the day my son died.'

Beau Biden, who had been a Major in the Delaware National Guard, died after a battle with brain cancer on May 30, 2015, while his father was vice president.

'He didn't die in the line of duty, he came home from Iraq with cancer. It was the horrific cancer what stolen us from him - and him from us. But still, it always feels to me on Memorial Day - I see him not as it was the last time I held his hand, but the day I pinned his bars on him as a second lieutenant,' the president said.

He went on say the '7,054 American military members' who 'gave their lives over 20 years of our Iraq and Afghan conflicts' and 'untold others who died of injury and illness connected to their service' should serve as a reminder that 'there is nothing low risk or low cost about war.'
He says this while cavalierly threatening to get us into World War III with Russia over Ukraine, his one true love.

During the speech he also commented on the war in Ukraine - which Vladimir Putin has now been waging for more than three months - stating that the Eastern European country's struggle is a reminder of the cost of freedom.

'In this moment, when a war of aggression is once more being waged by Russia to snuff out the freedom and democracy - the very culture and identity - of neighboring Ukraine, we see so clearly...that freedom has never been free,' Biden said.


'Democracy has always required champions. Today, in the perennial struggle for democracy and freedom, Ukraine and its people are on the front lines fighting to save their nation.

'But their fight is part of a larger fight that unites all people. it is a fight that so many of the Patriots whose eternal rest is here in these hallowed grounds were part of. A battle between democracy and autocracy - between liberty and repression, between appetites and ambition.'

In a veiled jab at Republican legislatures' clamp-down on personal freedoms like abortion and voting rights, Biden called out 'a few who forever seek to dominate the lives and liberties of many' in 'a battle for essential democratic principles - the rule of law, free and fair elections, freedom to speak and write and to assemble. Freedom to worship as one chooses, freedom of the press - principles that are essential for a free society.'
What we're seeing in Ukraine is the cost of occupation, just as we're seeing in America.

Right before giving this speech, Biden told reporters that "the Constitution, the Second Amendment was never absolute."

He's pushing to disarm the American people and designate his political opposition domestic terrorists -- all while shipping billions in weapons to the Azov Battalion and throwing the border wide open to millions of illegal aliens.

Follow InformationLiberation on Twitter, Facebook, Gab, Minds and Telegram.