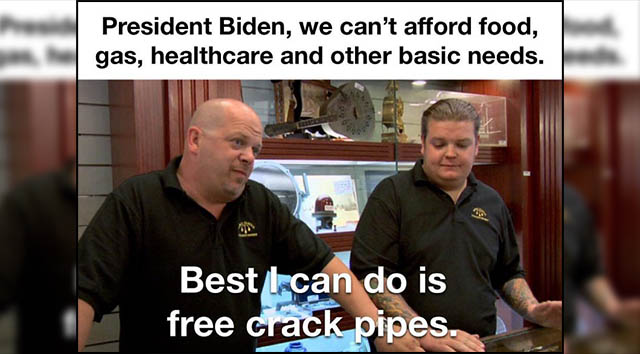 US overdose deaths are at a record high and yet our government is handing out free crack pipes and other drug paraphernalia.





From The Washington Free Beacon, "Yes, Safe Smoking Kits Include Free Crack Pipes. We Know Because We Got Them.":

Crack pipes are distributed in safe-smoking kits up and down the East Coast, raising questions about the Biden administration's assertion that its multimillion-dollar harm reduction grant program wouldn't funnel taxpayer dollars to drug paraphernalia.

The findings are the result of Washington Free Beacon visits to five harm-reduction organizations and calls to over two dozen more. In fact, every organization we visited—facilities in Boston, New York City, Washington, D.C., Baltimore, and Richmond, Va.—included crack pipes in the kits.

The kits became the subject of national attention in the wake of a Free Beacon report in February indicating that a $30 million harm-reduction program was set to fund the distribution of free crack pipes in "safe-smoking kits." Pressed on the matter in a Feb. 9 press briefing, White House press secretary Jen Psaki issued a full-throated denial.

"They were never a part of the kit, it was inaccurate reporting," Psaki said of the pipes. "A safe smoking kit may contain alcohol swabs, lip balm, other materials to promote hygiene and reduce the transmission of diseases."

While the contents of safe-smoking kits vary from one organization to another—and while those from some organizations may not contain crack pipes—all of the organizations we visited made crack pipes as well as paraphernalia for the use of heroin, cocaine, and crystal methamphetamine readily available without requiring or offering rehabilitation services, suggesting that pipes are included in many if not most of the kits distributed across the country. All of the centers we visited are run by health-focused nonprofits and government agencies—the types of groups eligible to receive funding, starting this month, from the Biden administration's $30 million grant program.
From NBC News, U.S. drug overdose deaths reached all-time high in 2021, CDC says:

More than 107,600 Americans died from drug overdoses last year, the highest annual death toll on record, the Centers for Disease Control and Prevention said Wednesday.

Overdose deaths increased 15 percent in 2021, up from an estimated 93,655 fatalities the year prior, according to a report from the CDC's National Center for Health Statistics (NCHS), which collects data on a range of health topics, including drug use.


I guess it's nothing free crack pipes can't solve!

Follow InformationLiberation on Twitter, Facebook, Gab, Minds and Telegram.