AP: Elon Musk Says He's For Free Speech But He Criticizes People Who Disagree With Him
Chris Menahan
InformationLiberation
May. 11, 2022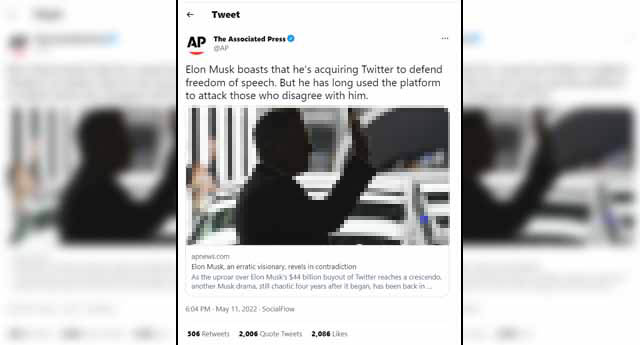 Elon Musk "revels in contradiction" because he claims to support free speech but criticizes people who disagree with him, so says the Associated Press.

"Elon Musk boasts that he's acquiring Twitter to defend freedom of speech," the AP said. "But he has long used the platform to attack those who disagree with him."


From the AP, "Elon Musk, an erratic visionary, revels in contradiction":

This week Musk is again keeping people guessing. First he embraced a European measure to keep hate speech and misinformation off social media. Less than 24 hours later, he announced that he'd reverse Twitter's ban of former President Donald Trump, who was kicked off the platform for inciting violence.

Meanwhile, doubt remains about whether Musk will even go through with the deal. He could still walk away by paying Twitter a $1 billion termination fee, a huge figure yet a fraction of his total fortune.

But if the 50-year-old Musk's gambit has made anything clear it's that he thrives on contradiction.

Musk boasts that he's acquiring Twitter to defend freedom of speech. But he has long used the platform to attack perceived foes who dare to disagree with him.
While endorsing the EU's Digital Services Act and claiming to support free speech is a contradiction, criticizing your foes is not.

I didn't like the way Musk criticized British caver Vernon Unsworth as a "pedo guy" but he went to court over it and a jury found him not guilty of defamation (Musk argued it was a joke gone wrong and noted he later deleted the tweet).

It's far more contradictory the way the US, EU and UK regimes claim to be for free speech while doing everything in their power to restrict and undermine their citizens' free speech rights. Since Musk bought Twitter and announced his aim to allow free speech on the platform, the US threatened to "reform" Section 230, the SEC launched an "investigation" into his dealings with the Twitter, the EU threatened to hit his site with massive fines and ban it altogether, and the UK threatened to ban the site and throw Musk in prison.

The AP just last month had their reporters follow around Ukrainian President Zelensky's SBU thugs as they kidnapped Ukrainians for speaking out against his regime. They reported on his regime's thuggish actions as a "crackdown on 'traitors.'"


Zelensky's goon squads going door-to-door jailing his critics gets more favorable coverage from the AP than Elon Musk!

Follow InformationLiberation on Twitter, Facebook, Gab, Minds and Telegram.