Ukraine Cuts Off Key Russian Natural Gas Pipeline Supplying Europe
Chris Menahan
InformationLiberation
May. 11, 2022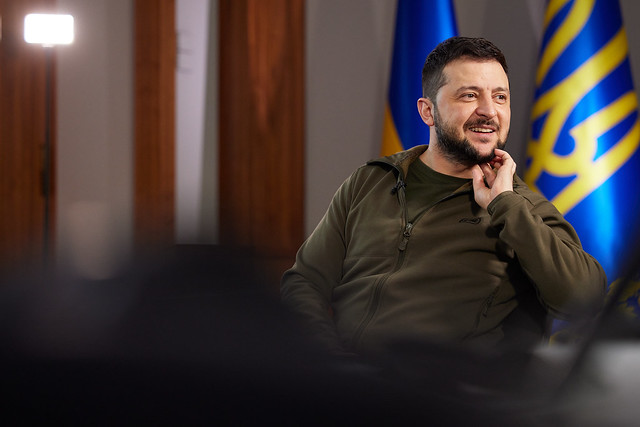 Now that Ukraine has secured a whopping $53 billion in military and economic aid from the US in just three months, the Zelensky regime is moving to plunge Europe into chaos in the name of fighting the Russkies.

From VOA News, "Ukraine Cuts Off Russian Natural Gas Pipeline Supplying Europe":

The fight for Ukraine played out beyond the battlefields on Wednesday, with Kyiv cutting off one Russian natural gas pipeline that supplies European homes and industry, while a Moscow-installed official in southern Ukraine said the Kremlin should annex Kherson after Russian troops took control.

Ukraine's natural gas pipeline operator said it was stopping Russian shipments through a hub in eastern Ukraine controlled by Moscow-backed separatists because of interference from enemy forces, including the apparent siphoning of gas.

About one-third of Russian gas headed to western Europe passes through Ukraine, although one analyst said the immediate effect might be limited since much of it can be redirected through another pipeline. Russia's giant state-owned Gazprom said gas flowing to Europe through Ukraine was down 25% from the day before.
"Kremlin-controlled Gazprom (GAZP.MM), which has a monopoly on Russian gas exports by pipeline, said it was still shipping gas to Europe via Ukraine, but volumes were seen at 72 million cubic metres (mcm) on Wednesday, down from 95.8 mcm on Tuesday," Reuters reported.

VOA continues:

The European Union, as part of its announced effort to punish Russia for its 11-week invasion of Ukraine, is looking to end its considerable reliance on Russian energy to heat homes and fuel industries.

It has, however, encountered some opposition from within its 27-member bloc of nations, especially from Hungary, which says its economy would sustain a major hit if its supply of Russian energy were cut off.
Europe is already seeing record inflation and energy prices are through the roof thanks largely to US and EU-led sanctions targeting Russia. Cutting off their pipelines is only going to push prices higher.

Brent crude surged 5.5% to $108.09 a barrel after the news came out on Wednesday. Draining our strategic oil reserves can only do so much.

Follow InformationLiberation on Twitter, Facebook, Gab, Minds and Telegram.