Elon Musk Tells EU Commissar Digital Services Act is 'Exactly Aligned With My Thinking'
Chris Menahan
InformationLiberation
May. 10, 2022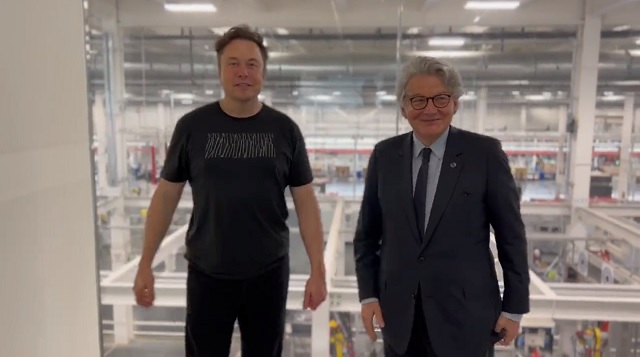 Thierry Breton, EU Commissioner for the Internal Market, last month threatened Elon Musk that if he allows free speech online and fails to comply with the EU's new Digital Services Act (aka the Censor The Internet Act) then Twitter will face massive sanctions and be banned from the EU.

The EU has kept the actual text of the DSA secret but their outline indicated it would massively expand online censorship, strictly regulate speech during times of "crisis" and restrict online anonymity through digital passports.

"Anyone who wants to benefit from this market will have to fulfil our rules," Breton said. "The board [of Twitter] will have to make sure that if it operates in Europe it will have to fulfil the obligations, including moderation, open algorithms, freedom of speech, transparency in rules, obligations to comply with our own rules for hate speech, revenge porn [and] harassment."

"If [Twitter] does not comply with our law, there are sanctions — 6 per cent of the revenue and, if they continue, banned from operating in Europe," he threatened.

On Monday, Breton traveled to Austin, Texas to meet with Musk in person. Breton released a short video with the two of them together wherein Musk told him the DSA "is exactly aligned with my thinking."

"We discussed many issues and I was happy to be able to explain to you the DSA," Breton said.

"I think it's exactly aligned with my thinking," Musk responded. "I agree with everything you said, really. I think we're very much of the same mind."


"Great meeting! We are very much on the same page," Musk said in a tweet responding to the video.


It's not clear whether Musk actually understands the horrible garbage that's in the DSA or if Breton just sold him a bill of goods.

On the flip side, Musk said Tuesday that he'll give Trump his Twitter account back.


Follow InformationLiberation on Twitter, Facebook, Gab, Minds and Telegram.