NYT: U.S. Intel Claiming Putin 'Misinformed' on War is Part of 'Information Warfare' Campaign
Chris Menahan
InformationLiberation
Mar. 30, 2022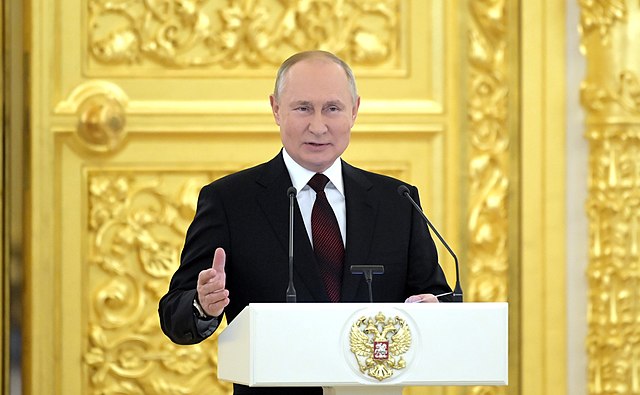 The top story the controlled media pushed on Wednesday was part of a Biden administration "information warfare" campaign aimed at disrupting Russia's invasion of Ukraine, according to the New York Times.

From The New York Times:

The unveiling of U.S. intelligence that Putin has been misinformed is part of a monthslong U.S. campaign.

Michael D. Shear | March 30, 2022, 4:59 p.m.

The declassification of a U.S. intelligence assessment suggesting that President Vladimir V. Putin of Russia had been misinformed about his military force's struggles in Ukraine is part of a monthslong campaign of information warfare by the Biden administration.

The effort began before the invasion, with the systematic release of classified information designed to disrupt Russia's attempts to create false pretexts for an invasion by revealing Mr. Putin's tactics. [Emphasis added]
The NYT ran with the propaganda story earlier in the day but just threw in a few qualifiers so they could absolve themselves of responsibility for pushing the psy-op on their readers (many of whom literally pay to be brainwashed with this crap):

U.S. intelligence suggests that Putin's advisers misinformed him on Ukraine.

Julian E. Barnes, Lara Jakes and John Ismay | March 30, 2022, 2:57 p.m.

WASHINGTON — President Vladimir V. Putin of Russia has been misinformed by his advisers about the Russian military's struggles in Ukraine, according to declassified U.S. intelligence.

The intelligence, according to multiple U.S. officials, shows what appears to be growing tension between Mr. Putin and the Ministry of Defense, including with the Russian defense minister, Sergei Shoigu, who was once among the most trusted members of the Kremlin's inner circle.

Speaking in Algiers, Secretary of State Antony J. Blinken acknowledged Mr. Putin had been given less than truthful information from his advisers.

"With regard to President Putin, look, what I can tell you is this, and I said this before, one of the Achilles' heels of autocracies is that you don't have people in those systems who speak truth to power or who have the ability to speak truth to power," Mr. Blinken said. "And I think that is something that we're seeing in Russia." [Emphasis added]
That's what we're seeing in America.

Follow InformationLiberation on Twitter, Facebook, Gab, Minds, Parler and Telegram.