U.S. Calls BS On Bellingcat Report Claiming Roman Abramovich Was 'Poisoned With Chemical Weapons' During 'Peace Talks'
"The intelligence highly suggests this was environmental," a U.S. official told Reuters, adding: "E.g., not poisoning."
Chris Menahan
InformationLiberation
Mar. 29, 2022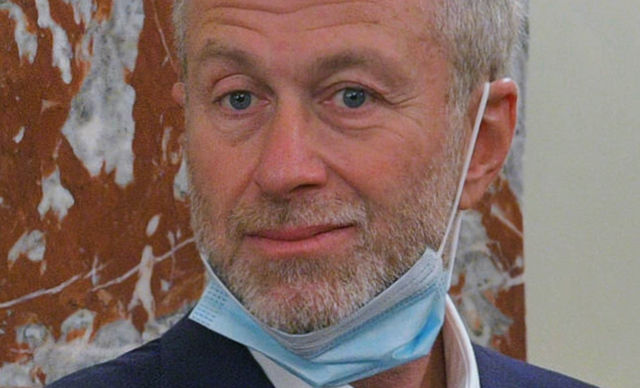 Russian-Israeli oligarch Roman Abramovich is pulling out all the stops to try and keep the US from sanctioning him.

First he had the Chairman of Israel's Holocaust museum Yad Vashem, Dani Dayan, lobby US officials to keep him off the sanctions list by telling them it would hurt donations. Then it came out he fled to Israel. Next it came out that he managed to get Zelensky to personally lobby Biden to keep him off the sanctions list (which Biden did). Now the British intelligence-linked propaganda outlet Bellingcat is trying to claim he was "poisoned" with "chemical weapons" during "peace talks" on "the night of 3 to 4 March 2022."



The Wall Street Journal sexed the symptoms up by claiming the three men suffered "red eyes, constant and painful tearing, and peeling skin on their faces and hands."


We know from the pictures and videos captured of Abramovich fleeing to Israel to dodge sanctions that he looked completely fine.


Does this look like a man who was just attacked by chemical weapons some 10 days earlier and had his skin peeling off his face?


There isn't a hint of redness on his face!

If the story wasn't fake enough already, Bellingcat went ahead and threw out that it may have instead been a "microwave" attack!

They made sure to note the purported "symptoms" allegedly "gradually subsided in the course of the following week"... as chemical weapons attacks are known to do!


Reuters reported Monday that a U.S. official said the "intelligence suggests the sickening of Russian billionaire Roman Abramovich and Ukrainian peace negotiators was due to an environmental factor, not poisoning."

The U.S. official told Reuters: "The intelligence highly suggests this was environmental," adding: "E.g., not poisoning." The official, who spoke on condition of anonymity, declined to elaborate.
As a reminder, leaked documents indicated the British government paid Bellingcat and Reuters to promote regime change inside Russia, so even this Reuters report should be taken with a grain of salt.

Moon of Alabama noted Monday that Abramovich is not in any of the pictures from pictures of the peace talks which took place on March 3.

The BBC's Tim Franks reported that Ihor Zhovkva, Deputy Head of President's Office, told Newshour that "he said he hadn't spoken to Abramovich or his people, but 'the members of the Ukrainian delegation are fine; I was in contact with one of them, and they said the story was false.'"


"Asked about the suspected poisoning reports, Ukrainian negotiator Mykhailo Podolyak said 'there is a lot of speculation, various conspiracy theories,'" the Evening Standard reported. "Rustem Umerov, another member of the negotiating team, urged people not to trust "unverified information.' "

If chemical weapons attacks just lead to mild inflammation than resolves itself in a week why are they even listed as WMDs? Why are Biden and others threatening further intervention in Ukraine if Putin uses chemical weapons? Sean Hannity called for nuking Russia "off the face of the earth" last week if they use chemical weapons. The comically stupid propaganda coming out of British intelligence makes it sound like they could instead be sold on Amazon alongside pepper spray!

The U.S. should hit Abramovich with the maximum sanctions possible just for pushing this BS and wasting our time!

[Header image by Fars Media Corporation via Wikicommons, cropped, CC BY 4.0]

Follow InformationLiberation on Twitter, Facebook, Gab, Minds, Parler and Telegram.