USA Today: "Scientists Agree There Is No Sufficient Way To Clearly Define What Makes Someone A Woman"
Chris Menahan
InformationLiberation
Mar. 28, 2022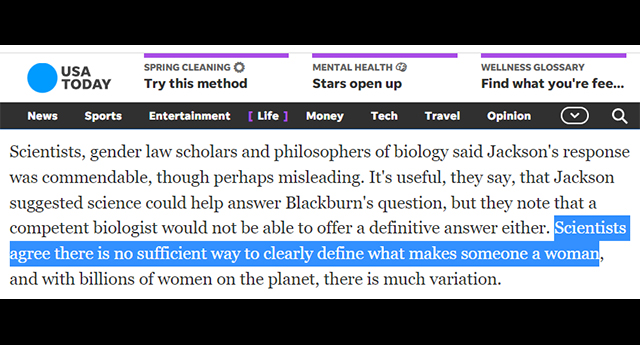 "Scientists" no longer know what women are, according to USA Today.

From USA Today:

Marsha Blackburn asked Ketanji Brown Jackson to define 'woman.' Science says there's no simple answer.

Alia E. Dastagir | Published 1:08 p.m. ET March 24, 2022

[...]

Scientists, gender law scholars and philosophers of biology said Jackson's response was commendable, though perhaps misleading. It's useful, they say, that Jackson suggested science could help answer Blackburn's question, but they note that a competent biologist would not be able to offer a definitive answer either. Scientists agree there is no sufficient way to clearly define what makes someone a woman, and with billions of women on the planet, there is much variation.
After getting criticized for her propaganda piece, Dastagir played the victim on Twitter.

"I majored in English, literature and rhetoric at Binghamton University. I have my masters in journalism from Syracuse University," Dastagir said. "Who decided that it's OK to live in a world where the cost of voice is a barrage of hate?"


I can't say whether or not such comments are OK as I'm not a sociologist!

Follow InformationLiberation on Twitter, Facebook, Gab, Minds, Parler and Telegram.