Supreme Court Nominee Ketanji Jackson Says She Can't Define What A Woman Is: "I'm Not A Biologist"
Chris Menahan
InformationLiberation
Mar. 23, 2022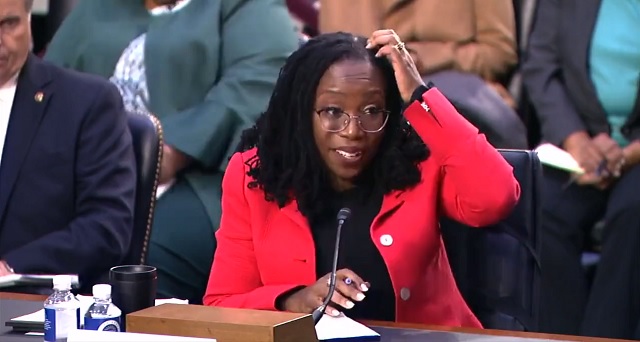 This one exchange alone should completely disqualify social justice activist Ketanji Jackson from sitting on the Supreme Court.


The left is so far gone it's beyond belief.

This woman is being installed on the highest court in the land purely because of her race and sex -- regardless if she knows what that is.



Fox News reported last week that Jackson praised the New York Times' debunked 1619 Project during a speech centered on ethno-narcissism.

From Fox News, "Biden Supreme Court nominee Jackson praised NYT's 1619 Project during MLK Day speech":

Judge Ketanji Brown Jackson, President Biden's Supreme Court nominee, praised the controversial 1619 Project and its author Nikole Hannah-Jones during a Martin Luther King, Jr. Day address at the University of Michigan two years ago.

In a January 2020 lecture, titled, "Black Women Leaders In The Civil Rights Movement Era And Beyond," Jackson described Hannah-Jones as an "acclaimed investigative journalist" and highlighted Hannah-Jones' "provocative" assertion that "the America that was born in 1776 was not the perfect union that it purported to be."

A transcription of the lecture was published Thursday by The Daily Wire.

"[A]cclaimed investigative journalist Nikole Hannah-Jones (who happens to be a black woman) explains that the men who drafted and enacted the Constitution founded this nation on certain ideals: freedom; equality; democracy," Jackson said at the time. "Yet, at the time they formulated these principles, the institution of slavery already existed in the colonies — ever since the year 1619, when 20-to-30 Africans who had been captured in their homeland arrived in the colonies by ship and were exchanged for goods.

"Jones highlights the irony of the situation even further when she notes that at the very moment that Thomas Jefferson penned the self-evident truths of the Declaration of Independence, a black relative—a slave— had been brought into his office to serve him," Jackson continued.

She added, "Thus, it is Jones's provocative thesis that the America that was born in 1776 was not the perfect union that it purported to be, and that it is actually only through the hard work, struggles, and sacrifices of African Americans over the past two centuries that the United States has finally become the free nation that the Framers initially touted."
The 1619 Project is complete trash focused on demonizing white people.

Nikole Hannah-Jones said in column in 1995 that white people are "barbaric devils" and "bloodsuckers" and "the white race is the biggest murderer, rapist, pillager, and thief of the modern world."





This is the "acclaimed investigative journalist" who has shaped Jackson's view of American history.

Follow InformationLiberation on Twitter, Facebook, Gab, Minds, Parler and Telegram.