Zelensky Thanks Zuckerberg For Fighting 'Side by Side' With Ukraine in Info War
Chris Menahan
InformationLiberation
Mar. 13, 2022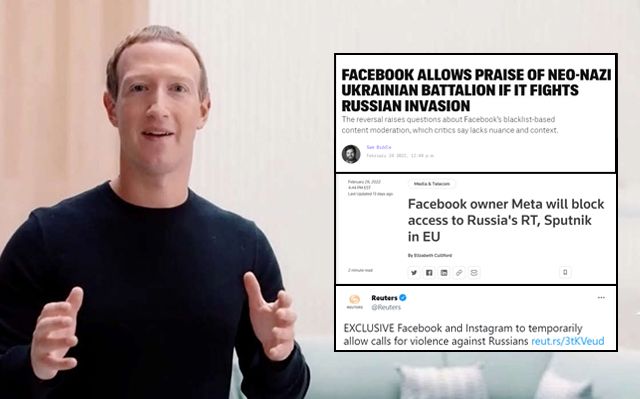 Ukrainian president Volodymyr Zelensky on Sunday expressed his gratitude to Mark Zuckerberg for Facebook and Instagram censoring Russian news outlets, allowing calls for violence against Russians and helping his government spread endless disinformation.

"War is not only a military opposition on UA land. It is also a fierce battle in the informational space," Zelensky said Sunday on Twitter. "I want to thank @Meta and other platforms that have an active position that help and stand side by side with the Ukrainians."


Last month, Facebook changed their rules to allow users to praise the "neo-nazi" Azov Battalion and this week they changed their rules further to allow calls for violence against Russians.


Facebook blocks RT and Sputnik in the EU but allows the Ukrainian military to announce plans to commit war crimes.

Facebook has helped Zelensky himself spread endless disinformation to try and con NATO into World War III. Most recently, they helped Zelensky spread the lie that Russians attacked the Zaporizhzhia nuclear power plant with tanks and it was leaking radiation and could lead to a nuclear holocaust wiping out all of Europe (if NATO doesn't immediately get involved in the war and start WW3).

They also helped Zelensky spread the lie that Russians attacked the Chernobyl nuclear power plant and were trying to trigger a meltdown.

With Mark Zuckerberg's full backing, Zelensky used Facebook to lie about Snake Island and spread the fake news that Russia attacked a Holocaust memorial "to erase our history."

Whereas Facebook said in the past they would censor content that may cause harm or lead to violence, they now boost Israeli-funded "neo-nazi" groups in Ukraine and spread Zelensky's lies and disinformation to millions in an effort to start WW3.

Follow InformationLiberation on Twitter, Facebook, Gab, Minds, Parler and Telegram.