Czech Republic, Slovakia And Latvia Threaten to Jail Citizens Who Voice Support For Russia
Chris Menahan
InformationLiberation
Mar. 02, 2022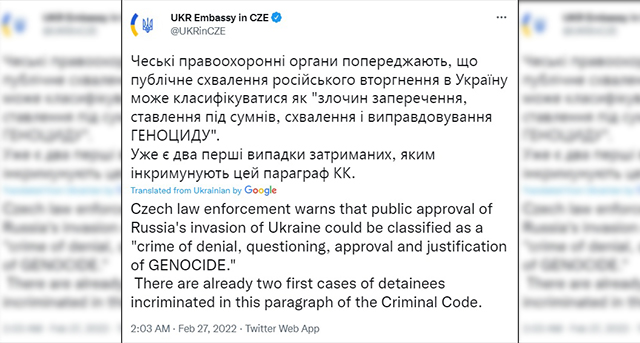 Czech Republic, Slovakia And Latvia have all announced they're going to start jailing citizens for voicing support for Russia or justify their intervention in Ukraine.




From Consortium News, "Jail Time for Czechs Agreeing With Russian Intervention":

The Supreme State Prosecutor of the Czech Republic has warned its citizens that they can wind up in jail if they utter agreement with Russia's military intervention in Ukraine.

"The Supreme Public Prosecutor's Office considers it necessary to inform citizens that the current situation associated with the Russian Federation's attack on Ukraine may have implications for their freedom of expression," began a statement from the office, dated Feb. 26.

"If someone publicly (including demonstrations, the Internet or social networks) agreed (accepted or supported the Russian Federation's attacks on Ukraine) or expressed support or praised the leaders of the Russian Federation in this regard, they could also face criminal liability under certain conditions," the statement says.

The laws the statement cites include prohibition against "approving of a criminal offense" and "denying, questioning, approving and justifying genocide." The Czech Republic is a member of both the European Union and NATO.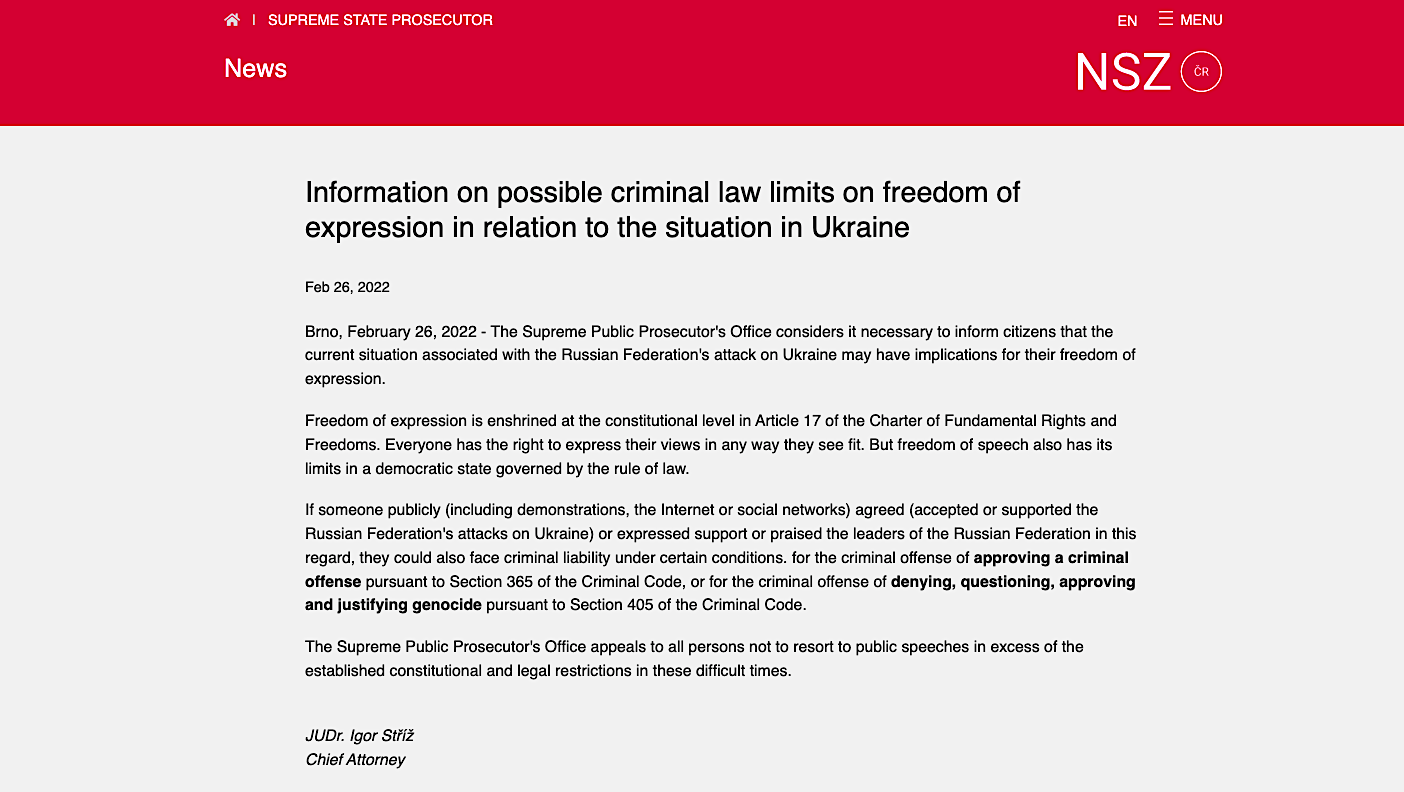 [...] According to the Ukrainian embassy in Prague, two people have already been arrested under these statutes for supporting Russia. It tweeted, according to Google's translation:

"Czech law enforcement warns that public approval of Russia's invasion of Ukraine could be classified as a 'crime of denial, questioning, approval and justification of GENOCIDE. There are already two first cases of detainees incriminated in this paragraph of the Criminal Code."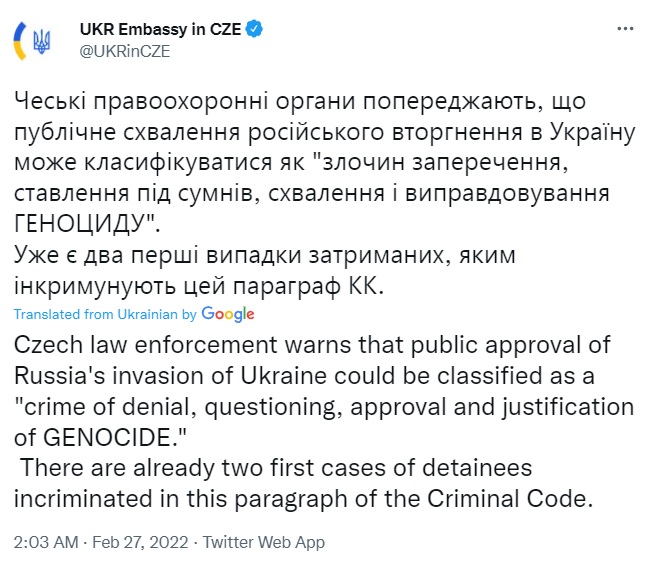 Slovakian television network RTV-Spravy reported:

"In connection with the Russian military invasion of Ukraine, the police warn that in some cases, imprisonment for 10 to 25 years to life may be threatened for the promotion of the war. The National Criminal Agency (NAKA) will adequately address the search for such crime on the Internet. ... "Whoever in a crisis situation intends to incite peace in any way, promotes war or otherwise supports war propaganda, is punished by imprisonment for ten to 25 years or imprisonment for life," the police pointed to § 417 of the Criminal Code."

In Latvia, news site Par Drasibu reported:

"This war also resonates in Latvia and the attempts of local supporters of the war to justify Russia's aggression against Ukraine are also visible. In this regard, citizens are urged to report to the State Police and the State Security Service all statements and individuals who call for, support and justify Russian aggression in Ukraine."
We're witnessing the end of liberal democracy.

Follow InformationLiberation on Twitter, Facebook, Gab, Minds, Parler and Telegram.