"Reddit The Nation": Ukraine's Official Twitter Account Calls For Russia To Be Deplatformed
Chris Menahan
InformationLiberation
Feb. 24, 2022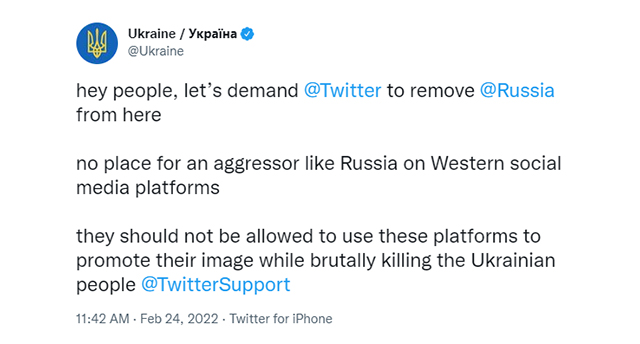 As Russia laid waste to the Ukrainian Armed Forces, the official Twitter account of the puppet government in Ukraine was busy calling for Russia to be deplatformed from social media.

"[H]ey people, let's demand @Twitter to remove @Russia from here," Ukraine tweeted Thursday. "[N]o place for an aggressor like Russia on Western social media platforms."

"[T]hey should not be allowed to use these platforms to promote their image while brutally killing the Ukrainian people," Ukraine said, tagging Twitter Support.


They also retweeted the Atlantic Council's Anne Applebaum (who helped lie America into the War in Iraq and get Ukraine into the mess it's in today) telling people to ignore the images they're seeing of Ukraine getting devastated.





It wouldn't surprise me if she's in contact with the people running their account behind the scenes.

They put out a similar statement themselves telling people to only read and spread information from Ukraine's comedian president Volodymyr Zelensky and Ukraine's Ministry of Foreign Affairs.


As Scott Greer joked yesterday night after Ukraine's official account shared a cringe Hitler meme, Ukraine is "Reddit the Nation."


Cruise missiles don't need to be on social media to hit their targets.

Follow InformationLiberation on Twitter, Facebook, Gab, Minds, Parler and Telegram.