ADL Teaching Schoolchildren Only White People Can Be Racist
Chris Menahan
InformationLiberation
Feb. 02, 2022


The Anti-Defamation League received widespread criticism over the past week after it came out they changed the definition of "racism" so that only white people could be labeled as racist.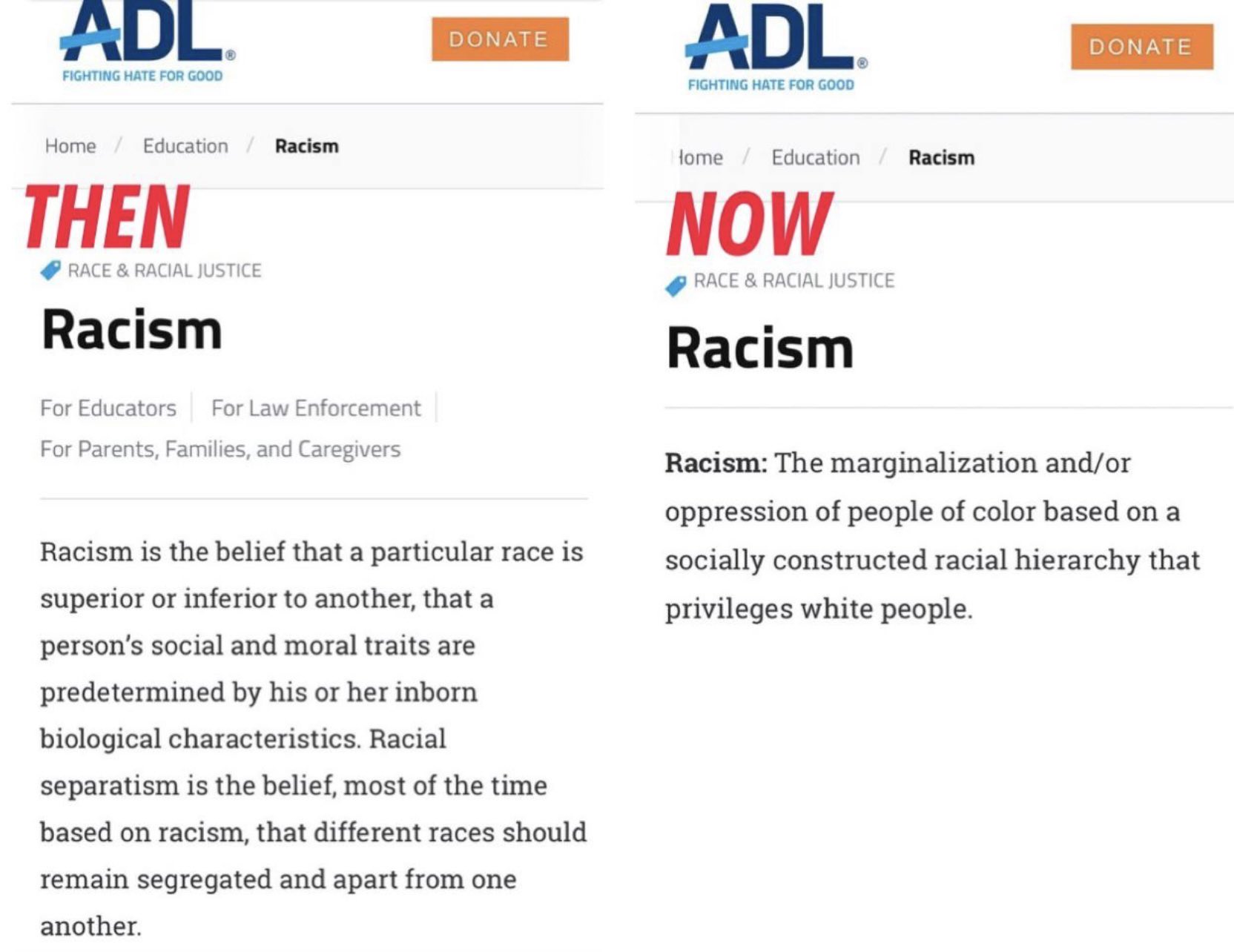 It turns out they're using this same definition in their "No Place For Hate" program and teaching millions of children in over 1,800 K-12 schools across America that only white people can be racist.




The Montgomery Advertiser reported Tuesday that the program is being used to indoctrinate children in Huntsville, Alabama.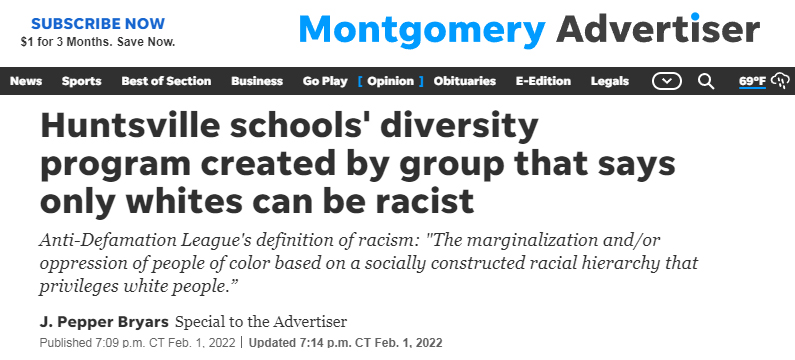 "The Anti-Defamation League has an 'elementary school version' of the definition: 'The disrespect, harm and mistreatment of people of color based on made up ideas that white people deserve to be in charge and treated better,'" the Montgomery Advertiser reported.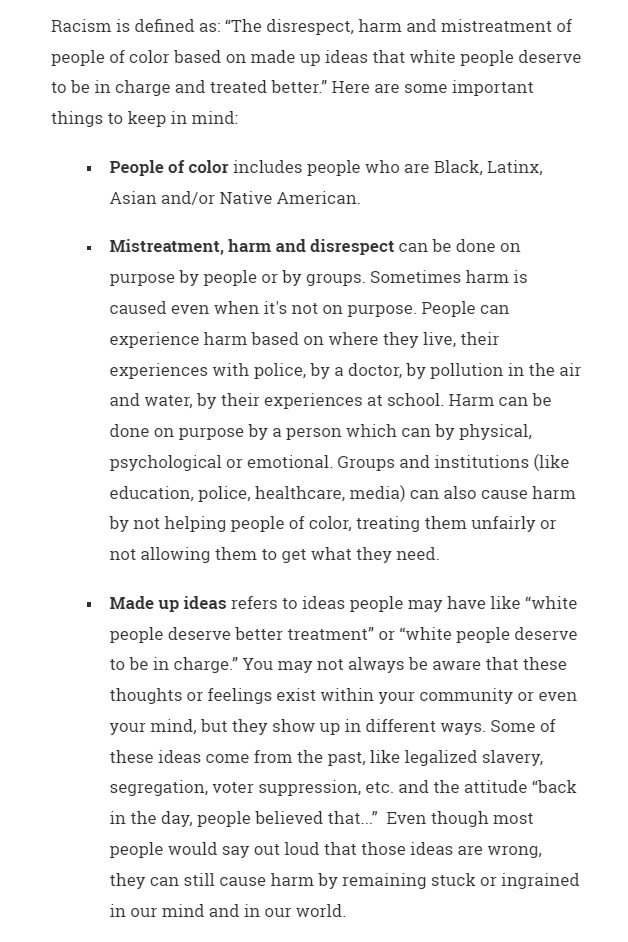 [Screenshot from the ADL's website for kids]

J. Pepper Bryars writes in The Montgomery Advertiser:

Records of the Huntsville City Schools Board of Education meeting on December 17, 2020 show a contract with the Anti-Defamation League to provide three training sessions in early 2021 from its "World of Difference Institute" program, as part of the system's overall cultural diversity training effort.

"We do have a long-standing relationship with the Anti-Defamation League. This is the organization that sponsors our 'No Place for Hate' activities," a system official said when describing the organization to the board. She added that it's "a very important partnership that we want to maintain."

Officials later told me that the system has been using the "No Place For Hate" program free-of-charge for more than a decade, though it "is not a curriculum."

"Schools use it as a way to promote a bullying-free environment in the school," the official explained.
How does teaching students that whites are the cause of all their problems and the source of all "racism" lessen bullying?

There's plenty of evidence to suggest such indoctrination only increases bullying.

A study from 2019 found that the only effect of teaching people about "white privilege" is that it lessens their sympathy for poor whites.





As Reason highlighted:

"What we found startling was that white privilege lessons didn't increase liberals' sympathy for poor Black people," writes Erin Cooley, one of the study's authors and an assistant professor of psychology at Colgate University, in an explanatory post for Vice. "Instead, these lessons decreased liberals' sympathy for poor white people, which led them to blame white people more for their own poverty. They seemed to think that if a person is poor despite all the privileges of being white, there must really be something wrong with them."
The ADL says on their website that 1.4 million children are being subjected to this program every year and over 100,000 educators are teaching their program in over 1,800 schools (their front page says 1,800+, the below page says 1,600+ and another page says 1,700+).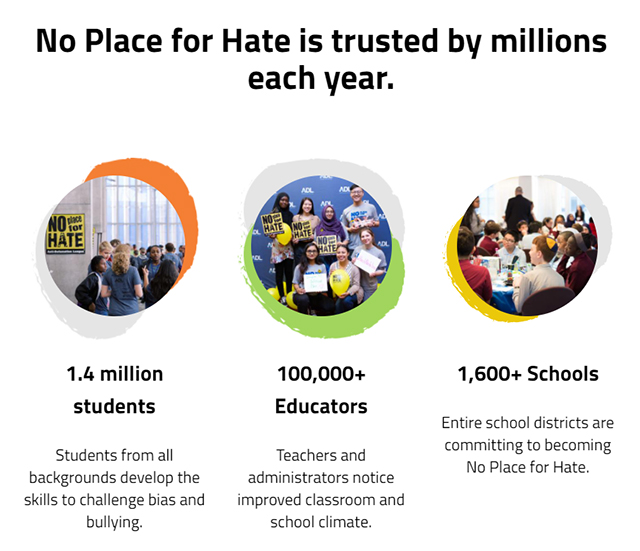 The No Place For Hate program also teaches kids to recognize "hate symbols" such as "It's Okay to Be White" and "Anti-Antifa images."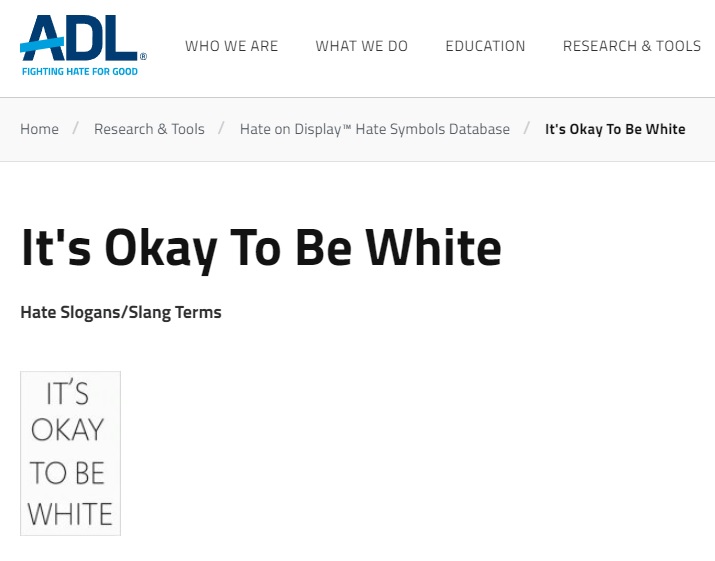 This program is the worst of the worst when it comes to brainwashing our children with critical race theory.

Legislatures across the nation should move immediately to ban the ADL and their hate-filled curriculum from all of our schools.

Follow InformationLiberation on Twitter, Facebook, Gab, Minds, Parler and Telegram.