State Department Says Claim The West Is In Decline Is A 'Russian Disinformation Trope'
State Dept. says traditional values and family values are "ill-defined concepts" and West is thriving due to the "safety and equality of LGBTQI+ people" and "concepts such as female equality and multiculturalism"
Chris Menahan
InformationLiberation
Jan. 24, 2022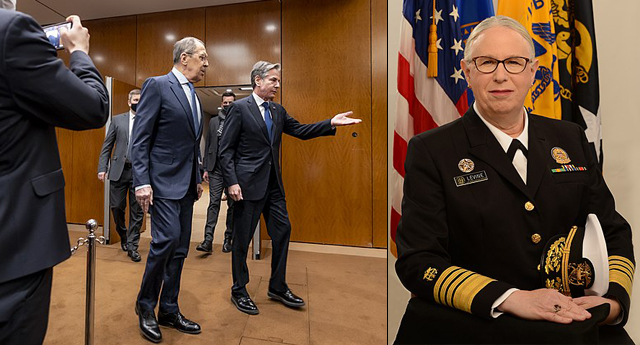 The State Department under Antony Blinken put out a propaganda piece just days ago insisting it's Russian "disinformation" that the West is in a state of decay.

From The US State Department, "Russia's Top Five Persistent Disinformation Narratives" (Archive):

Theme #3: "The Collapse of Western Civilization is Imminent"

Russia pushes the false claim that Western civilization is collapsing and has strayed from "traditional values" because it works to ensure the safety and equality of LGBTQI+ people and promotes concepts such as female equality and multiculturalism. The demise of Western civilization is one of Russia's oldest disinformation tropes, with claims of "the decaying west" documented since the 19th century.

This "values"-based disinformation narrative evokes ill-defined concepts including "tradition," "family values," and "spirituality." Russia argues it is the bastion of so-called "traditional values" and gender roles and serves as a moral counterweight to the "decadence" of the United States and Western countries. For example, President Putin has claimed the West has practically cancelled the concepts of "mother" and "father," and instead has replaced them with "parent 1 and 2," while Foreign Minister Lavrov wrote that Western students "learn at school that Jesus Christ was bisexual."
Note how they put tradition, traditional values, family values and spirituality in scare quotes and labeled them "ill-defined concepts."

"LGBTQI+ equality," on the other hand, is apparently perfectly well defined.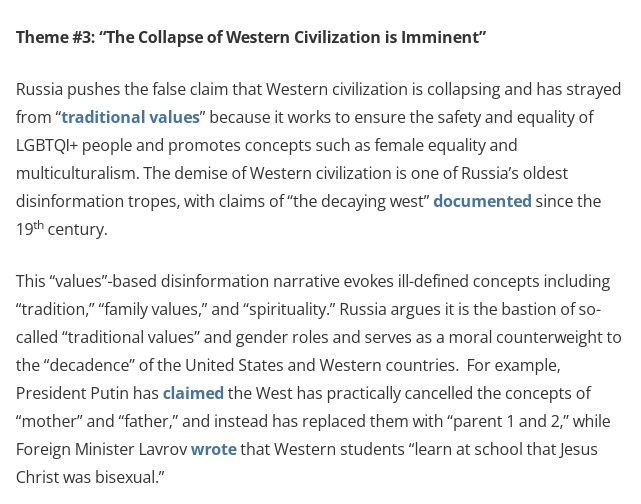 Russia spreading "disinformation" about the West literally just consists of them pointing to viral news articles published in Western news outlets.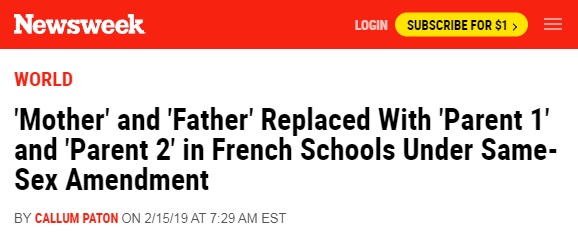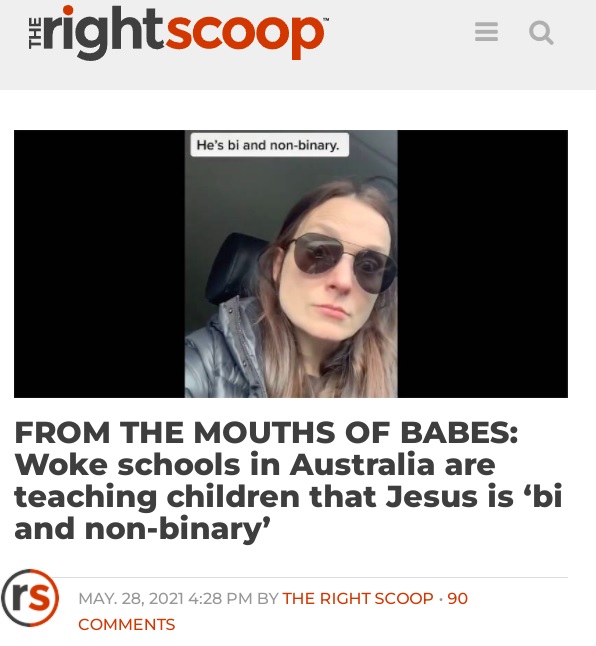 One of Biden's first actions after taking office was to embrace free sex changes for members of our military.

Secretary of Defense Lloyd Austin put out a tweet declaring, "Trans rights are human rights."




Austin is actively purging the military of unvaxxed troops in the name of "combat readiness" while signing off on sex change surgeries for our troops and insisting it is a "human right."

Deciding what drugs to inject into your own body is not a human right but mutilating your genitals and taking cross-sex hormones is!

One of the greatest examples demonstrating how the US has declined was when Anthony Blinken was humiliated by Chinese diplomats on U.S. soil last year who scolded him to his face and insisted "the United States does not have the qualification to say that it wants to speak to China from a position of strength.".


Blinken probably thinks it was a huge win because it was the "first Asian-American feminist with purple hair" to take part in such talks!

A poll earlier this month found that 77% of Americans believe our country is in a "state of decay" and only 10% said we're in a "state of progress."

I guess we're all just being fooled by Russian propaganda!

Not only is the West in decline but as this State Department report demonstrates, even the quality of our government's propaganda is in decline!

Follow InformationLiberation on Twitter, Facebook, Gab, Minds, Parler and Telegram.