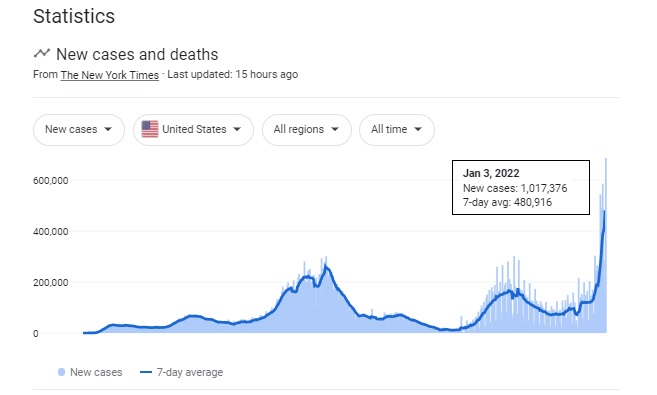 For now, people seem to be panic buying covid test kits more than anything else.

From CNBC, "U.S. reports over 1 million new daily Covid cases as omicron surges":

The U.S. has reported a record single-day number of daily Covid cases, with more than 1 million new infections.

A total of 1,082,549 new coronavirus cases were reported Monday, according to data compiled by Johns Hopkins University, as the highly infectious omicron variant continues to spread throughout the country.

The new daily tally brings the total number of cases confirmed in the U.S. since the start of the pandemic to 56,189,547. In total, the virus has caused 827,748 deaths across the country.

The record single-day total may be due in part to delayed reporting from over the holiday weekend. A number of U.S. states did not report data on Dec. 31, New Yearís Eve, and many do not report data on weekends, meaning that some of these cases could be from positive tests taken on prior days.

Nonetheless, as of Jan. 3, the seven-day average of daily new U.S. cases is 480,273, meaning the U.S. has the highest 7-day average of new cases in the world, according to JHUís rankings.

About 98,000 Americans are hospitalized with Covid-19, according to a seven-day average of data from the Department of Health and Human Services as of Jan. 3, up 32% from a week ago. That figure is approaching peak delta wave levels when about 103,000 people were in hospital beds with Covid across the country in early September, but remains lower than last winterís high mark of roughly 137,000 U.S. hospitalizations.

The U.S. is reporting an average of about 1,200 daily Covid deaths for the week ending Jan. 3, Hopkins data shows, well below the record numbers seen following last yearís holiday season when the daily average held above 3,000 for about a month starting in January 2021. The death toll tends to lag rises in case counts and hospitalizations, however.
Covid test kits are sold out everywhere in my area. I wonder how that's affecting the total number of cases? My family got this Omicron bug (most likely) and only one of us was tested and it was done at home with no public record.

I'm assuming the numbers now are actually worse than they're telling us, which is a good thing as it could herald the end to this "pandemic."

Every day there's new high profile "breakthrough cases," aka "cases," with triple-vaxxed vax shills like DoD head Lloyd Austin getting sick.

Fortunately, few people are dying because Omicron, which seems to be indistinguishable from a cold virus, isn't getting into people's lungs.

Remember how Biden said during his campaign that the virus would go away in two weeks if everyone just wore a mask? They've got over 60% or so of the country double or triple jabbed and there's now more cases than ever. How can this be viewed as anything but a complete and total failure?

I said on Friday I expect there's going to be another round of panic buying but not a significant surge in deaths from Omicron.

Since making that statement I've been wondering: what if our hospitals start giving Omicron patients Remdesivir and putting them on ventilators? What if they start handing out the experimental anti-viral pills from Merck and Pfizer like candy and they have terrible side-effects?

I don't know whether monoclonal antibodies work as promised but I do know they pulled them two weeks ago based off lies.

If they just let the virus run its course, we'd probably get out the other end without a surge in deaths as they've seen in South Africa but it seems like there's a good chance Fauci et al. will find some way to screw this all up.

Follow InformationLiberation on Twitter, Facebook, Gab, Minds, Parler and Telegram.