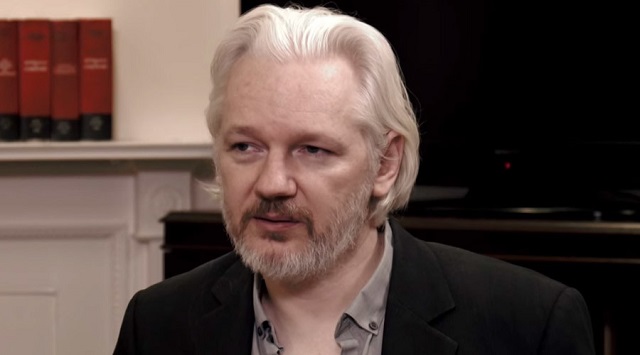 Julian Assange's wife revealed over the weekend that he suffered a stroke during an appeal hearing on October 27th in Belmarsh Prison.


From The Daily Mail:

Julian Assange has had a stroke in Belmarsh Prison, his fiancee Stella Moris revealed last night.

The WikiLeaks publisher, 50, who is being held on remand in the maximum-security jail while fighting extradition to America, was left with a drooping right eyelid, memory problems and signs of neurological damage.

He believes the mini-stroke was triggered by the stress of the ongoing US court action against him, and an overall decline in his health as he faces his third Christmas behind bars.

It happened at the time of a High Court appearance via video link from Belmarsh in October.

A 'transient ischaemic attack' – the interruption of the blood supply to the brain – can be a warning sign of a full stroke. Assange has since had an MRI scan and is now taking anti-stroke medication.

Ms Moris, 38, a lawyer, said: 'Julian is struggling and I fear this mini-stroke could be the precursor to a more major attack. It compounds our fears about his ability to survive the longer this long legal battle goes on.'
Assange's father said during an interview live-streamed on November 15th that his son was vaccinated in prison and appeared to suggest he was pressured into it because he feared retaliation.



From Consortium News:

Julian Assange's father, John Shipton, has told a French interviewer that his son has been given a Covid-19 vaccine in Belmarsh Prison.

"He has been vaccinated, of course," Shipton told the show Thinkerview, live-streamed on Monday. "So he has no choice in this. No choice about anything. He has no control over his body."

Shipton said every medicine Assange accepted in prison would go on his record and wind up in court. Likewise any medicine he refused would also be reported.

There is "not a mandated Vax" in the prison, Shipton told Consortium News in an email. "I was attempting to illustrate that Julian's body is not under his control. All actions, as I understand it, are noted and available to [the] prosecution. The psychiatric staff and medical staff write reports which are available."

Shipton told CN that "if [the] Vax [is] not taken, I presume prison administration, no less than other institutions ..." would report it. "Thus a freedom which in practice does not exist," he said.

Shipton told the French interviewer: "He only has choice about what he might think about from this minute to the next minute. What his thoughts are, are his. The rest is in the complete control of the jail administration because it is a maximum security prison. Everything ... is supervised. "

According to testimony at his September 2020 extradition hearing, Assange had been reluctant to discuss his health with prison doctors, fearing he would be put in isolation.

The imprisoned WikiLeaks publisher has a chronic lung condition. His block at Belmarsh had an outbreak of the virus last year and was locked down.

Assange has said nothing on the record either way about vaccines or public health measures like lockdowns or wearing masks. He has been incommunicado directly with the public since Ecuador shut off his internet connection in March 2018 inside its embassy in London where Assange had been granted political asylum in 2012.

In August, the U.K. Ministry of Justice told Consortium News in an email that a vaccine was made available to all inmates at Belmarsh Prison, where Assange has been held since April 2019. He remains there on remand pending the U.S. appeal of a judgement not to extradite him.

"All prisoners have been offered a vaccine," wrote MoJ senior press officer Sarah Fairely. "As it is a personal health matter we don't hold the figures on those who have taken the vaccine."
Mark this down as another "coincidence"...

Follow InformationLiberation on Twitter, Facebook, Gab, Minds, Parler and Telegram.