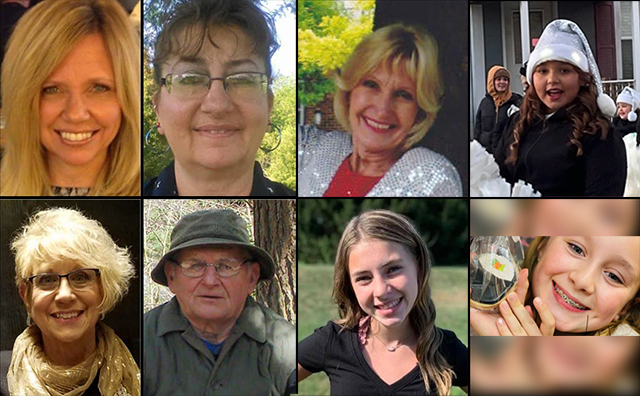 Black extremist Darrell Edward Brooks Jr has been charged with five counts of intentional homicide in the ramming deaths of four women and one man at a Christmas parade in Waukesha, Wisconsin on Sunday.

At least 48 people, including many children, were injured in the attack.

I've compiled as many of their stories below as I could find -- more are sure to surface.


From The New York Post, "Waukesha Christmas parade attack victims include members of 'Dancing Grannies'":

Four of the five people killed in the Waukesha Christmas parade attack on Sunday were affiliated with a dancing group of older women called the Milwaukee Dancing Grannies.

Virginia "Ginny" Sorenson, 79, LeAnna Owen, 71, and Tamara Durand, 52, were members of the Dancing Grannies, known for carrying pompoms and entertaining crowds with synchronized routines, according to the Milwaukee Journal Sentinel. Victim Wilhelm Hospel, 81, was helping the group because his wife Lola is a member, his brother told The Post.

A fifth victim, Jane Kulich, 52, was a Citizens Bank employee who was killed walking along with the company's parade float, her family said.
Jessalyn, 11, is suffering from extremely brutal injuries and "is fighting for her life," according to a GoFundMe organized to help her.

"She is in ICU under heavy oxygen, having lost a kidney, broken pelvic, liver lacerations, lung damage, tachycardia and many blood transfusions."

Reporter Tony Atkins spoke with a member of her family:



Below are excerpts and links to multiple GoFundMe pages of victims of the attack.


UPDATE: Jackson Sparks, 8, tragically died from his injuries on Tuesday afternoon.

"While attending the Waukesha Christmas parade, an SUV tragically entered the parade route and struck 40 victims. Two of those victims were children, Tucker (age 12) and Jackson (age 8) [...]. The entire family is devastated and their parents, Aaron and Sheri, are at the bedsides of their children who are both at Children's Hospital of Wisconsin. Tucker, is recovering, but sustained road rash and a fractured skull. They are closely monitoring his head and spine. He is stable at this time. Jackson, age 8, underwent brain surgery on Sunday evening. Doctors will be testing for brain function and brainstem activity today (Monday, November 22nd). He needs a miracle.

The family is facing mounting medical expenses with two children receiving medical treatment, and time away from work. Any donation, large or small, is so appreciated and will make a big difference to the [...] family. Aaron and Sheri are people of faith, so please continue to lift them and their boys in prayer. Even if you're not able to give, please share their story."


"Currently Erick is awake, but heavily medicated. He has a broken femur, skull fracture, broken ribs, C4 vertebrae fracture, a bruised lung, and a pneumothorax (collapsed lung)."


"Kenzie [...] ( 4th grade Waukesha STEM) was directly impacted by the tragedy in downtown Waukesha at the annual Christmas Parade. Due to the impact of the SUV there is bleeding on the brain. First surgery was to repair the break in her skull and the bleeding. Later today is hopefully surgery to repair her broken leg."


"Julia is in the fight of her life. [...] Julia has suffered brain trauma and is currently in the ICU at Children's Hospital."


"[Tyler], like many others, was involved in the horrific incident on Sunday afternoon, at the Waukesha Holiday Christmas parade. Tyler plays the saxophone with the Waukesha South Band. Tyler was in ICU and has underwent 2 surgeries already. He has a long road to recovery."


"Aidan is a senior at Waukesha South HS. He was hit by the SUV on November 21 while marching with the band in the Waukesha Christmas parade. Aidan was rushed to the hospital to be treated. He suffered fractured ribs, severe bruising and stitches. This is not the way a family should enter their holiday season. They are tough but the road ahead is going to be tough too both physically and emotionally."


"My name is Osvaldo [...], and my mother and little sister participated in the 58th annual Holiday Parade in Waukesha on Sunday. While they were walking the parade, an SUV decided to speed down the parade route injuring many people including my little sister Camila [...], and my mother, Romelia [...].

My sister, Camila, was immediately rushed to the Children's Hospital of Wisconsin and is being treated for a fractured left leg and a head injury. She went into surgery last night and is currently in the ICU recovering. The doctors are closely monitoring her fractures and head injuries, but my sister is currently stable.

My mom, Romelia, was immediately rushed to Aurora Medical Center. She needed emergency surgery upon arrival to the hospital due to blunt force trama that caused internal bleeding in one of her organs. My mom is also being treated for multiple bone injuries including: pelvic fractures, lower spine fractures, wrist fractures and leg fractures. Just last night my mom had 3 surgeries and is currently on a breathing tube as she has many more to come."

Please check GoFundMe for all the latest cases as more are sure to surface.

UPDATE: Thirteen children remain hospitalized and six are in critical condition at Children's Wisconsin, the Milwaukee Journal Sentinel reported Tuesday evening.

Follow InformationLiberation on Twitter, Facebook, Gab, Minds, Parler and Telegram.