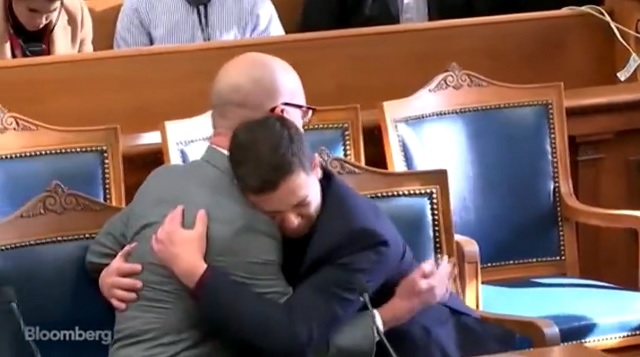 Kyle "The Kenosha Kid" Rittenhouse has been found not guilty on all counts!




From The Daily Mail, "BREAKING NEWS: Kyle Rittenhouse is CLEARED of all FIVE remaining charges against him in Kenosha murder case: Now nation braces for fall out of successful self-defense argument by 17-year-old who went to defend town against rioters with AR-15 rifle":

Kyle Rittenhouse has been found not guilty on all counts.

Rittenhouse, 18, collapsed in tears and hugged his attorney as the jury in his double murder trial acquitted him of all charges after four torturous days of deliberation and weeks of testimony.

The verdict came in at 12.15pm Friday in Kenosha, Wisconsin, leading to fears that the city might once again erupt in violence. Rittenhouse's mother Wendy was in the public gallery and also burst into tears as the verdicts were read.

He was led out of the cavernous second-floor courtroom immediately after the verdicts were announced. Rittenhouse was charged with first-degree intentional homicide and other counts for killing Joseph Rosenbaum and Anthony Huber and wounding Gaige Grosskreutz on August 25, 2020.

Demonstrators have been gathered outside the Kenosha Courthouse all week, as Wisconsin governor Tony Evers called in 500 members of the Wisconsin National Guard to counter the expected protests.

The verdict marks the explosive end of a trial that has been riddled with controversy and drama that has threatened to derail proceedings more than once.
Kyle Rittenhouse was smeared by the media and smeared by the regime's prosecutors who hid evidence from his defense team and lied about the law.

He was smeared by Facebook and Mark Zuckerberg as a "mass shooter" and everyone was blocked from defending him on the site. Twitter banned people for saying "Kyle Rittenhouse did nothing wrong."

He was banned from having a legal defense fund on GoFundMe and PayPal and was only able to raise money when GiveSendGo stepped up (and got blocked from payment processors) and L. Lin Wood and John Pierce helped organize a second fund.

Joe Biden smeared him as a "white supremacist."

Kyle and all of us working together overcame all odds. Kyle is now a free man (absent AG Merrick Garland pursuing some last second arrest on federal charges like he planned if Derek Chauvin was found not guilty) and he's getting his AR-15 back! He can now start suing the hell out of these bastards with hugely sympathetic juries!


God bless Kyle Rittenhouse and God bless America!


Follow InformationLiberation on Twitter, Facebook, Gab, Minds, Parler and Telegram.