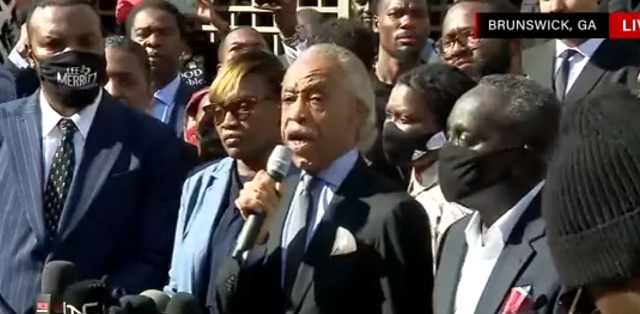 At the same time MSNBC was being banned from a Kenosha courthouse for allegedly stalking Rittenhouse jurors in a suspected attempt at jury intimidation, MSNBC host Al Sharpton was hosting a political rally outside a Brunswick courthouse to intimidate jurors in the Ahmaud Arbery shooting trial.

Last week, Judge Timothy Walmsley said that he would allow Al Sharpton, Jesse Jackson and other racial arsonists into his courtroom during the trial despite complaints from the defense that their presence would serve to intimidate the jury and bias them against Gregory and Travis McMichael and their neighbor William Bryan.



Bryan's defense attorney Kevin Gough had complained about "black pastors" including Al Sharpton and Jesse Jackson being shuffled in and out of the courtroom in view of the jury and sitting with Arbery's family.

The media responded by painting Gough as a "racist" (what else?) and Judge Walmsley scolded him and labelled his comments "reprehensible."


[Embed starts 2:06]

"So now the court is faced with balancing a lot of things going on outside this courtroom and doing it in a way that respects members of the public's right to be in the courtroom, as well as what I'm trying to put out there is a fair trial. All right?" Walmsley said.

"So you need to understand, everybody, that your words in this courtroom have an impact on a lot of what's going on," the judge said.

Sharpton jumped on the judge's weakness and desire to please those "outside" the courtroom more than hold a fair trial by banding together with racial arsonist and serial liar Ben Crump to bring in 100+ black pastors and scores of other activists for a political rally outside the courthouse.


"We gone keep coming until we get justice!" MSNBC host Al Sharpton screamed into a mic during a rally outside the courtroom.



A dozen Jewish rabbis also came out to join the political rally:





Crump is not only intimidating the jurors but also lying about what took place inside the courtroom:


McMichael said he shot Arbery because he attacked him and tried to wrestle his shotgun out of his hands:



From The Daily Mail (the only outlet which printed the meat of his defense):

Travis McMichael parked his pick-up, which his father in the flatbed, telling jurors at that point he did not want to 'escalate' the situation. But just then Arbery ran back into sight and towards the younger McMichael, jurors heard.

He said: 'He turns and he's on me.. in a flash. He grabs the shotgun and I believe I was struck on that first instance that we made contact.'

Travis McMichael then started to tear up as he said: 'I was thinking of my son, it sounds weird but it's the first thing…' His voice tailed off as he fought back sobs.

Asked by his attorney Jason Sheffield what he did next, McMichael said: 'I shot him. He had my gun. He struck me. It was obvious that he was attacking me, that he would have got the shotgun from me, it's a life or death situation.

'I wanted to stop him from doing this so I shot him.' Asked if Arbery stopped when he was shot, McMichael replied: 'He did not.'

Earlier, McMichael said there had been thefts in Satilla Shores, his neighborhood outside the small coastal Georgia city of Brunswick, that put residents on edge.

He continued: 'I know that I got hit… I got struck, I got hit on the top of the head. And he had the weapon in his hands so I pushed and pulled. Still getting hit.'

Sheffield: 'Did you get it free from his grip?'

McMichael: 'I don't believe I did. I don't know if and when and where he continued grabbing but we were together, we were locked up. He was on that shotgun.

Asked about the positions of each man at the time, McMichael said: 'I didn't know where I was at but I knew that he was on me. I knew that I was losing this.

'I knew that if I was getting tripped, or he would have got a lucky strike on my head, or if I would have lost that grip on that shotgun that I would have been shot or in serious trouble.

'I knew that he was overpowering me. But I didn't know which direction or what mechanics he was doing to overpower me.'

He continued: 'I thought I shot twice until later on speaking with the investigator that I realized it was three shots. The first shot, I knew I shot.

'But then the second shot, I shot again because I was still fighting, I was still ... he was all over he, he was still all over the shotgun. And he was not relenting. So I shot again to stop him.'

McMichael said after the third shot 'he (Arbery) disengaged'. He added: 'At that point he let go, he turned and continued to run down Satilla (Drive). I was in shock. I turned around, I don't know where I was going. My dad came out and he was yelling that he's (Arbery) has got his hand under him.

'I turned around, we got over there and pulled his hand out from under him and realized that he was deceased. The police were right there. I stood up, realized that I got a gun here and that he has passed away. So I walked over to the side and put my shotgun down.

'After that it was a blur.'
The defendants are getting railroaded and Judge Walmsley is allowing it to happen to please those "outside" the court.

Meanwhile, MSNBC appears to be taking part in a criminal conspiracy to intimidate two juries simultaneously!

Follow InformationLiberation on Twitter, Facebook, Gab, Minds, Parler and Telegram.