Pfizer CEO Says People Who Spread 'Misinformation' On Covid Shots Are 'Criminals'
Chris Menahan
InformationLiberation
Nov. 09, 2021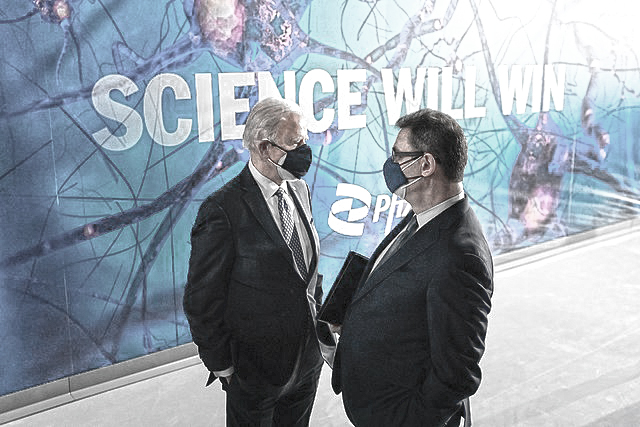 Pfizer CEO Albert Bourla has not only lobbied for his experimental mRNA covid injections to be mandatory and his company to be shielded from all liability but now he's pushing to make it a crime to speak out against it.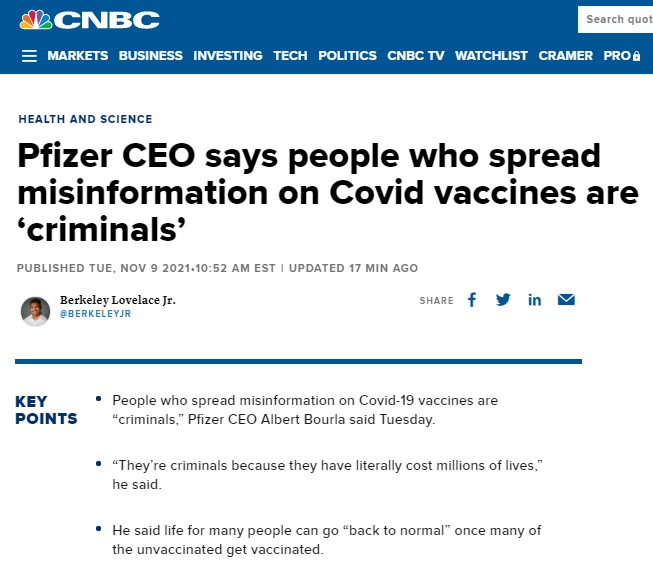 From CNBC:

People who spread misinformation on Covid-19 vaccines are "criminals" and have cost "millions of lives," Pfizer CEO Albert Bourla said Tuesday.

Speaking with Washington D.C.-based think tank Atlantic Council, Bourla said there is a "very small" group of people that purposefully circulate misinformation on the shots, misleading those who are already hesitant about getting vaccinated.

"Those people are criminals," he told Atlantic Council CEO Frederick Kempe. "They're not bad people. They're criminals because they have literally cost millions of lives."


[...] Bourla said Tuesday that life for many people can go "back to normal" once many of the unvaccinated get vaccinated.

"The only thing that stands between the new way of life and the current way of life is, frankly, hesitancy to vaccinations," he said.
Pfizer was ordered to pay a $2.3 billion criminal fine in 2009 for "the largest health care fraud settlement in the history of the Department of Justice" as a result of their "illegal promotion" of pharmaceutical products, according to the DOJ.

Now that they've bought off our government they're marketing their covid shots to kids by telling them it'll give them "superpowers" and make them "superheroes."


Life isn't going "back to normal" in highly vaxxed countries because the mRNA therapeutic (at best) Bourla falsely marketed as a "95% effective vaccine" has failed to stop the spread of covid (and our globalist overlords are consolidating so much money and power they're never going to let it go "back to normal").

The NATO-funded Atlantic Council along with the Anti-Defamation League is one of the top organizations that has successfully lobbied for mass internet censorship, so Bourla's comments are not just idle chatter.

These globalist orgs successfully lobbied Facebook, Google, YouTube, Twitter and the rest of Big Tech to censor the internet and purge alt media truthtellers after Trump's election.

They've moved on to censoring stories the regime doesn't like (such as Hunter Biden's escapades right before the election) and are now banning people who say "vaccines are ineffective or dangerous."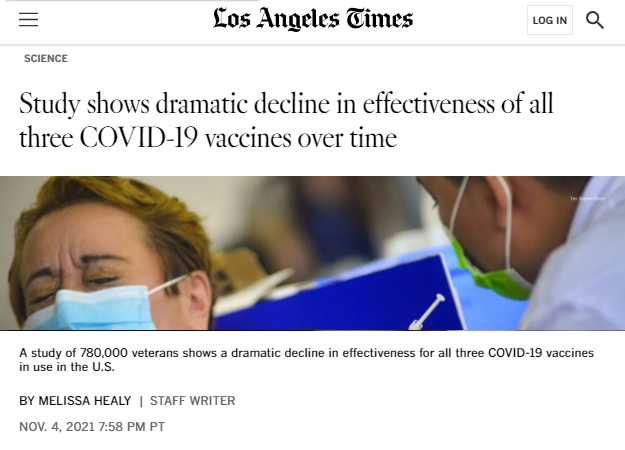 Don't you dare say the same!


RFK Jr and Joseph Mercola were put on a regime hit list earlier this year for questioning these shots and banned from YouTube. Mercola was pressured into deleting his entire archives due to threats from the regime.

As the mass censorship is in many ways backfiring throwing dissenters in jail for bucking the regime is the obvious next step.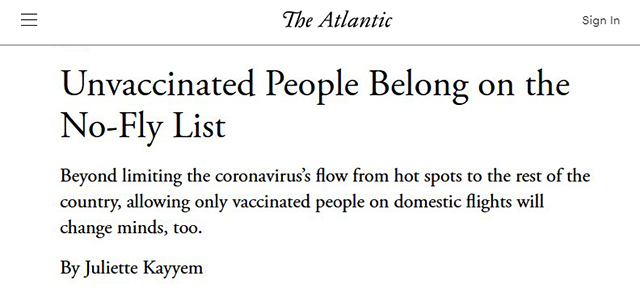 Attorney General Merrick Garland sicced the FBI on anti-CRT parents and is conducting raids on Project Veritas associates and James O'Keefe because he doesn't like his journalism.


We are ruled by absolute criminals.

Follow InformationLiberation on Twitter, Facebook, Gab, Minds, Parler and Telegram.