Sanjay Gupta Does Damage Control With Don Lemon After Shellacking From Joe Rogan
Chris Menahan
InformationLiberation
Oct. 15, 2021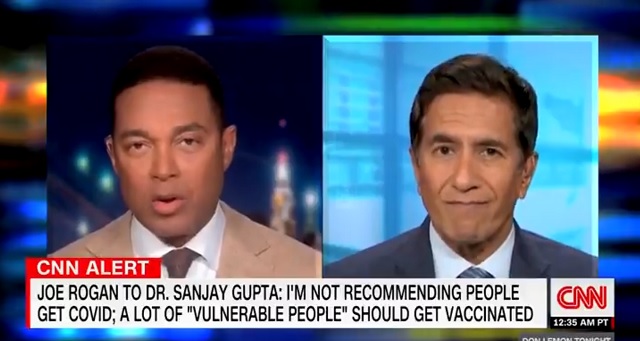 CNN's Dr Sanjay Gupta responded to his total humiliation on Joe Rogan's podcast by slithering over to Don Lemon's show to downplay what took place and act like his network didn't lie about Rogan taking "horse dewormer."

WATCH:


Transcript via Townhall:

"Listen, I think it's also very important, I know it's in large part a tongue-in-cheek interview because it's Joe Rogan and there's lots — you're jockeying back and forth. But he did say something about Ivermectin that I think wasn't actually correct about CNN and lying. Okay? Ivermectin is a drug that is commonly used as a horse de-wormer. So, it is not a lie to say that the drug is used as a horse de-wormer. I think that's important. And it is not approved for COVID. Correct?" Lemon asked.

"That's right. That's correct," Gupta replied. "It is not approved for COVID. And you're right, I mean, the FDA even put out a statement, saying, you know, basically reminding people — it was a strange sort of message from the FDA, but that said, 'You're not a horse, you're not a cow, stop taking this stuff,' is essentially what they said, referring to Ivermectin."

"When Joe got sick, he took Ivermectin. He also took monoclonal antibodies, which is an infusion of these antibodies. So, he took both those things. It's very likely it was the monoclonal antibodies that made him feel better so quickly," Gupta added.

Before ending the interview, Lemon told Gupta "you held your own, though. It was very good."
Gupta told Rogan during his podcast that CNN "shouldn't have said it was horse dewormer" only to turn around a day later and claim on CNN that the lie was justified.

Nothing about the interview was "tongue-in-cheek" -- it was a dead serious, rare moment in history where one of the media's chief propagandists was held to account for he and his network's bulls**t and it ended with Gupta getting completely and utterly humiliated.


This is what happens when these propagandists step out of their studios and are faced with real questions.

Follow InformationLiberation on Twitter, Facebook, Gab, Minds, Parler and Telegram.