"F--k Them": Tucker Reacts to ADL Calling For Him to Be Fired
Chris Menahan
InformationLiberation
Sep. 26, 2021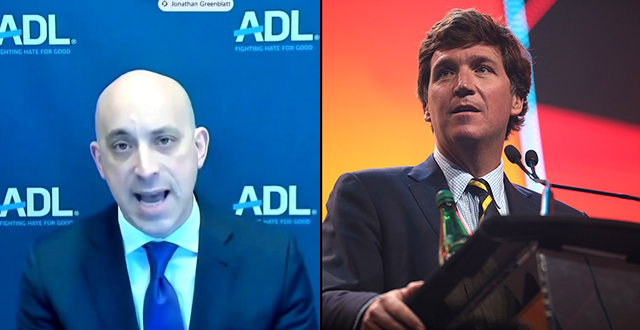 Tucker Carlson had choice words for the Anti-Defamation League's Jonathan Greenblatt after hearing that the pro-Israel lobbying group was once again calling for him to be fired.

"Oh, f*ck them," Carlson responded to Megyn Kelly. "The 'great replacement theory' is, in fact, not a theory, it's something that the Democrats brag about constantly, up to and including the president."

Tucker continued: "In one sentence, it's this: Rather than convince the current population that our policies are working and they should vote for us as a result, we can't be bothered to do that; we're instead going to change the composition of the population and bring in people who will vote for us."




Greenblatt, who has been organizing an advertiser boycott against Tucker and working behind the scenes to get Fox News' upstream cable providers to pull him off the air, said it was "a dangerous abuse of power" for Tucker to say things the ADL doesn't like (on the other hand, the ADL censoring the entire internet, partnering with the US government to conduct an ideological purge of the military and spy on all dissenters is just fine).


Rep. Matt Gaetz, who earlier this week questioned why the government of Israel appeared to be running the $25 million extortion scheme targeting him and his father, said "TuckerCarlson is CORRECT about Replacement Theory as he explains what is happening to America" and "the ADL is a racist organization."


As Tucker Carlson pointed out on his show in April, the ADL are big believers in the "Great Replacement theory" when it comes to Arab immigration to Israel.


Follow InformationLiberation on Twitter, Facebook, Gab, Minds, Parler and Telegram.