NYT: 'There Is No Good Reason You Should Have to Be a Citizen to Vote'
Chris Menahan
InformationLiberation
Jul. 30, 2021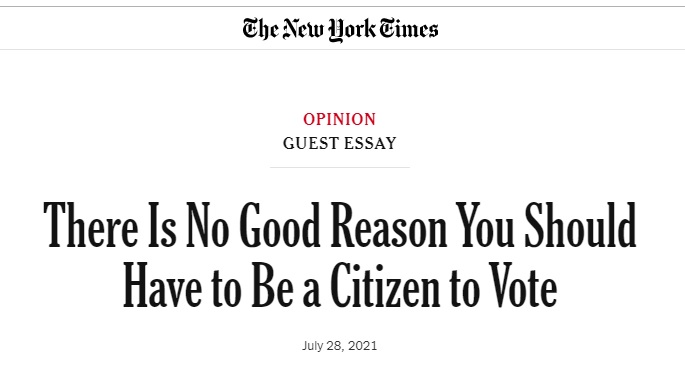 Our hostile elite want us to be completely disenfranchised.


From The New York Times:

There Is No Good Reason You Should Have to Be a Citizen to Vote

By Atossa Araxia Abrahamian

This essay is part of a series exploring bold ideas to revitalize and renew the American experiment. [...]

[Skip entire worthless article.]

Atossa Araxia Abrahamian (@atossaaraxia) is the author of "The Cosmopolites: The Coming of the Global Citizen." She is working on a second book about weird jurisdictions.
There's no good reason not to deport the entire staff of the New York Times and all their contributors.

Follow InformationLiberation on Twitter, Facebook, Gab, Minds, Parler and Telegram.