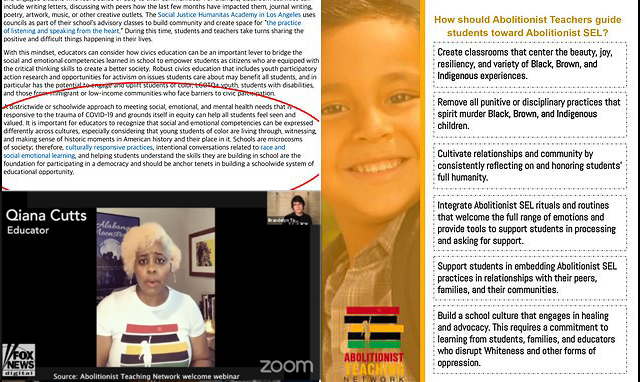 If you want schools to be reopened you have to commit to "disrupting whiteness" and giving "antiracist therapy" to "White educators," so says the Biden regime's Department of Education.

WATCH:



From Fox News, "Biden admin promotes radical group pushing critical race theory in schools":

The Biden administration's guidance for school reopening promoted a radical activist group's handbook that advocates for educators to "disrupt Whiteness and other forms of oppression."

The Department of Education linked to the Abolitionist Teaching Network's "Guide for Racial Justice & Abolitionist Social and Emotional Learning" in its handbook intended to help schools reopen after the COVID-19 pandemic and recommend how they should spend billions of dollars they collectively received through the American Rescue Plan.

[...] "Abolitionist Teachers" should "[b]uild a school culture that engages in healing and advocacy. This requires a commitment to learning from students, families, and educators who disrupt Whiteness and other forms of oppression," the group states in its guide.

[...] In addition to finding educators committed to disrupting Whiteness, the guide states that teachers should remove "all punitive or disciplinary practices that spirit murder Black, Brown, and Indigenous children."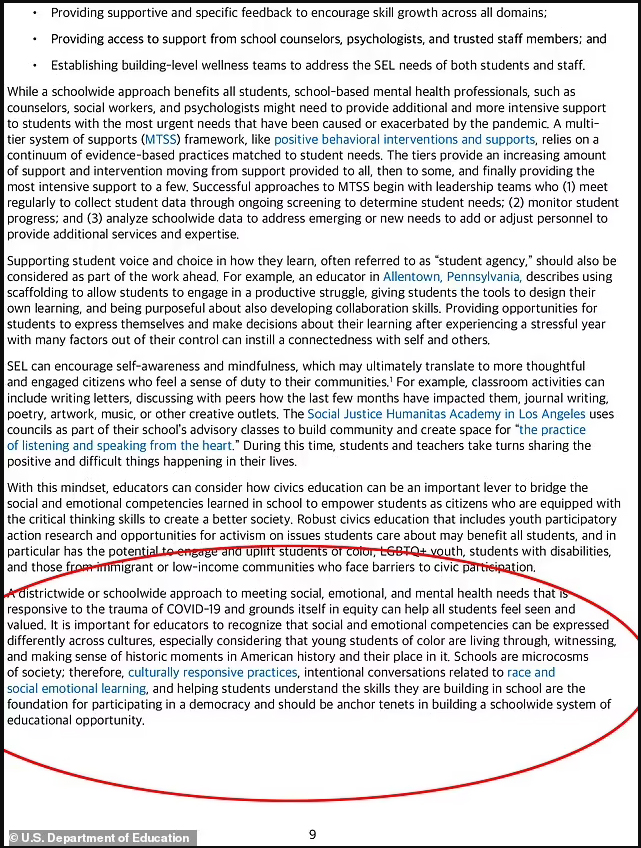 [...] The Abolitionist Teaching Network's guide also lists abolitionist teachers' "demands," which include "[f]ree, antiracist therapy for White educators and support staff." Additionally, it states that teaching and learning standards, as well as teacher evaluations, should be "grounded in the pursuit of Black, Brown, and Indigenous liberation, criticality, excellence, and joy."
There's remarkable vanity in their teaching material saying how students must learn about and "center" the "beauty" of BIPOCs in their classrooms.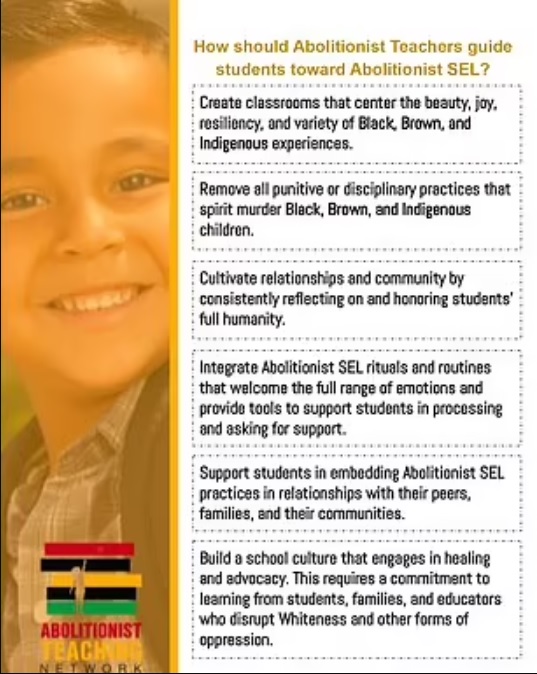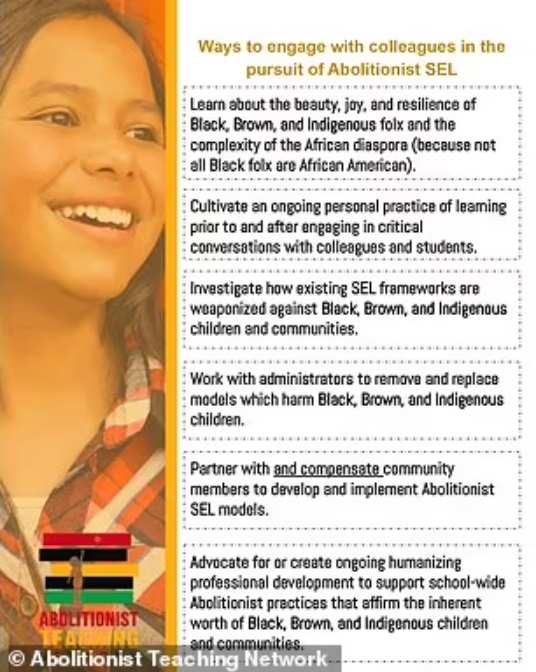 In the future, there's going to be entire classes just paying homage to the "magic" of black hair.
The network "is dedicated to not creating new schools or reimagining schools, but destroying schools that do nothing but harm Black and brown children," co-founder Bettina Love said during a welcome webinar.

Love also noted that the network would "create a national database of antiracist school counselors, therapists and lawyers." She said her group planned to pay its "activists in residence" to travel around the country and "go into schools or communities and do the work of dismantling."

"If you don't recognize that White supremacy is in everything we do, then we got a problem," Love, who also chairs the board of directors, said. "I want us to be feared."

Another co-founder and fellow board member, Brandelyn Tosolt, described herself as an "educator of White teachers." She said during the webinar that she has a "significant history" of "trying to help other White teachers trouble their internalized White supremacy and anti-Blackness."

The Abolitionist Teaching Network started only in 2020, according to its LinkedIn page. It's unclear why it was linked in the Department of Education's guidance, though Deputy Secretary Cindy Marten, while serving as the superintendent of the San Diego Unified School District, hosted Love, Fox News previously reported.

As first reported by Manhattan Institute senior fellow Christopher Rufo and confirmed by Fox News, Love conducted diversity training for managers and principals in September 2020. During this training,Love said schools didn't see Black people as humans and were anti-Black. Love also said schools "spirit murder" Black students.

"Spirit murder" is "a slow death, a death of the spirit, a death that is built on racism and intended to reduce, humiliate, and destroy people of color," Love wrote in a 2019 article.

Marten gave Love a glowing introduction for the diversity training, Fox News previously reported.
The DoE tried to distance themselves from the group after getting exposed by Fox News.

"The Department does not endorse the recommendations of this group, nor do they reflect our policy positions," the DoE said, ignoring how the Biden regime has embarked on advancing anti-white systemic racism at every level. "It was an error in a lengthy document to include this citation."

The only "error" was getting caught. This is the standard curriculum in public schools whether this group is involved or not. Fortunately, it's becoming so ridiculous now that people are finally starting to notice!

Follow InformationLiberation on Twitter, Facebook, Gab, Minds, Parler and Telegram.