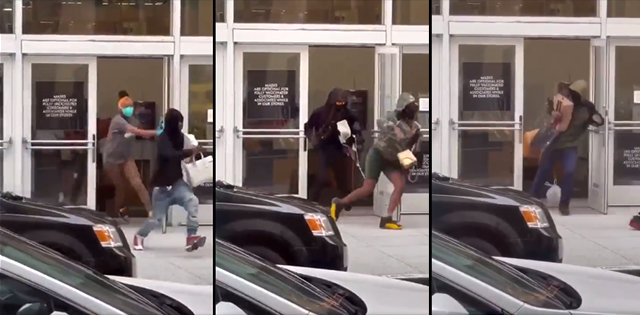 Victims of systemic oppression were filmed taking food for their families (hidden in expensive handbags) out of Neiman Marcus during a flash looting on Monday evening in San Francisco.

The oppressed peoples, who clearly live in constant fear that they could be killed by racist white police at any moment for any reason over the most minor of slights, could be seen making their getaway in what appeared to be three nice, newer-model sedans.

What looked to be a security guard could be seen filming with a cell phone from across the street.




Neiman Marcus endorsed the Black Lives Matter movement in June 2020 after their stores were smashed up in honor of Saint Floyd.


From The Dallas Morning News, "Neiman Marcus' damaged windows morph into messages of support and healing":

"Neiman Marcus Group leads with love, and that's what we're bringing to our storefront this weekend," said Amber Seikaly, vice president of communications at Neiman Marcus. The idea was put together quickly Friday and may be expanded to a few other stores that were boarded up in other cities.

"We've been doing a lot of listening and learning over the last couple of weeks," she said. The retailer decided to turn the moment into "an opportunity to express how love and hope can strengthen and rebuild our communities."

"This is an opportunity to bring beauty to our city and our communities, to show Neiman's support to the Black Lives Matter movement, and to let our voices be heard that we are fighting racism and injustice with love and kindness," Seikaly said.

Neiman Marcus CEO Geoffroy van Raemdonck sent employees a video of staff members expressing their feelings and shared experiences. He encouraged employees to listen to one another, Seikaly said. The high school students said in an interview Sunday that they didn't understand why racism wasn't eradicated decades ago and believe in the effectiveness of their newfound collective voices.
Thank you, Neiman Marcus, for your courageous stand against racism and injustice.

All the oppressed peoples of the world who are now flooding into America thanks to DHS head Alejandro Mayorkas throwing the border wide open should know that Neiman Marcus stands with you and will respond to getting looted by speaking out against white racism.

A similar scene was caught on film at a Walgreens in San Francisco last month:


"Out of control" shoplifting has caused 17 Walgreens in San Francisco to close over the past five years, the SF Chronicle reported in May.

Target, another champion of the Black Lives Matter movement, announced last week that they'll be closing all six of their stores early in San Francisco due to rampant theft and shoplifting.


The non-stop thefts are largely the result of Prop 47, which the SF Chron reported was "approved by nearly 60% of California voters in November 2014" and "reduced penalties for most cases of drug possession, and for nonviolent thefts of property worth $950 or less, from felonies to misdemeanors, punishable by months in county jail instead of years in state prison."

The law is hailed as a huge success by leftists because it reduced the black-white arrest gap.

The poblem is particulaly bad in San Fransicso as since taking office on Jan 8, 2020, District Attorney Chesa Boudin has taken a hands-off approach to prosecuting criminals in the name of fighting "racism" and "white supremacy."



When a surge of attacks against Asians started making headlines earlier this year, Boudin responded by blaming "white supremacy."

Boudin's affluent parents were members of the Weather Underground domestic terrorist group and were jailed in the 80s for taking part in the murder of police officers Edward O'Grady and Waverly Brown during a bank heist.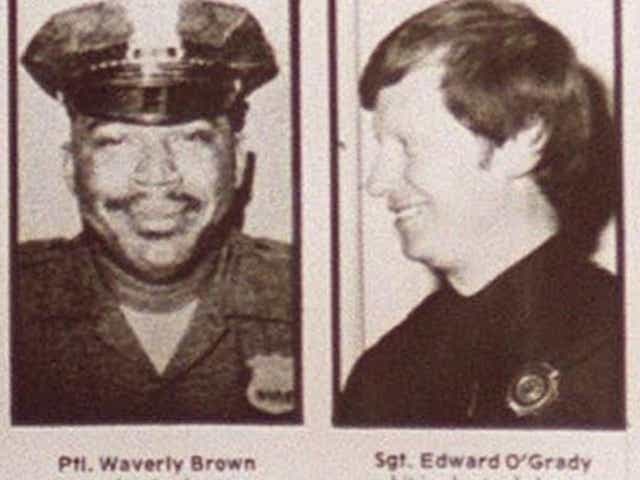 Boudin told 60 Minutes in March their case showed that "our criminal justice system is not working" because they were "unarmed getaway drivers" (for their well-armed compatriots who carried out the murders).


Boudin's mother, Kathy Boudin, after getting out of prison became an an adjunct professor at the Columbia University School of Social Work and went on to co-found the Center for Justice at Columbia University.

The Center for Justice at Columbia University is currently seeking new recruits for their ongoing "Beyond the Bars, Close Jails and Prisons" campaign.


Though California decriminalized most theft and just last year decriminalized knowingly infecting people with HIV, they're actively working on making it a crime to "misgender" someone.

Last year, San Francisco's Board of Supervisors also voted unanimously to pass the "CAREN ACT" which advocates said would punish "entitled white women" for calling 911 on people of color.

Though racial justice advocates are working to end mass incarceration of "oppressed peoples" for crimes like theft, assault, murder and terrorism, they're working to begin mass incarceration of those they've deemed oppressors.



Follow InformationLiberation on Twitter, Facebook, Gab, Minds, Parler and Telegram.