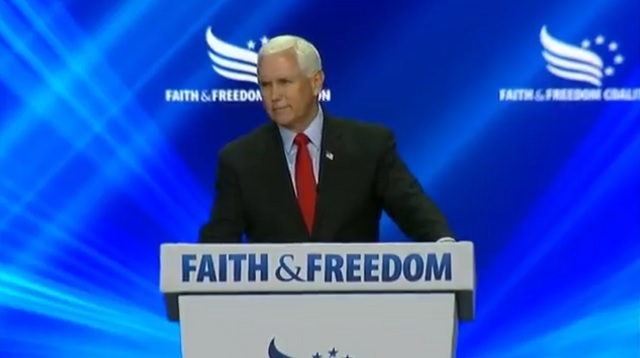 Former VP Mike Pence was heckled and called a traitor by patriots at the Faith and Freedom Coalition summit in Florida on Friday.


From Forbes:

- An unknown number of attendees at the conservative Christian event, populated with steadfast Trump supporters, chanted "traitor" as Pence began his remarks.

- Pence ignored the shouts and attempted to speak over them, delivering his signature line to raucous cheers: "I'm a Christian, a conservative and a Republican, in that order."

- A woman who chanted "traitor" was escorted out of the conference, according to NBC News reporter Ali Vitali.
Politico reported Friday on another backstabbing Pence did after Trump's epic Charlottesville press conference back in August 2017:

"You had some very bad people in that group, but you also had people that were very fine people, on both sides," Trump said.

The next day, Stephen Schwarzman, a longtime friend of Trump's and chief executive of Blackstone Group, called the president and told him he had disbanded the White House Strategic and Policy Forum, a coalition of businesses chaired by Schwarzman that Trump had convened in February 2017 to advise him on economic issues. There weren't enough executives left who would stand by Trump after his repeated failures to adequately address Charlottesville, Schwarzman said. Trump hung up and beat his friend to the punch by quickly tweeting that he was shutting down the panel.

Gary Cohn, the president's top economic adviser—and a registered Democrat—was even more despondent. Raised Jewish on the East Side of Cleveland and a longtime New York resident, he stood next to Trump for the infrastructure news conference and grew increasingly alarmed and uncomfortable. Later, in a private meeting inside the Oval Office, Cohn unloaded on the president.

Cohn told Trump that his lack of clarity had been harmful to the country and that he'd put an incredible amount of pressure on people working in the White House. He told Trump that he might have to quit. No one backed Cohn up. Others in the room, including Pence, remained quiet.

Cohn returned to his office after the meeting broke up. Following a few minutes behind, Pence climbed the flight of stairs and appeared at the threshold of Cohn's door.

"I'm proud of you," Pence told him, safely out of earshot of the president.
Embarrassing.

Follow InformationLiberation on Twitter, Facebook, Gab, Minds, Parler and Telegram.