Putin Condemns 'Political Persecution' of Jan 6 Protesters: 'Did You Order The Assassination' Of Ashli Babbitt?
Chris Menahan
InformationLiberation
Jun. 15, 2021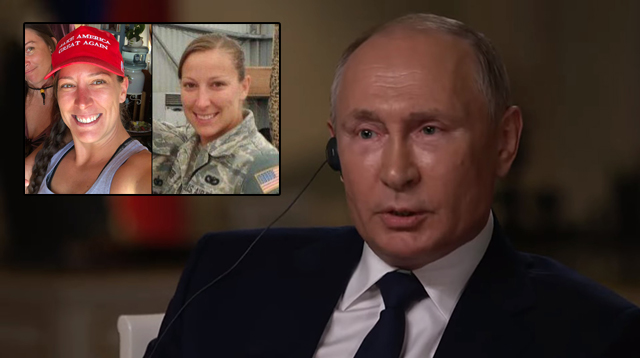 Russian President Vladimir Putin spoke out against the mass arrest of Jan 6 Capitol protesters and questioned who ordered the "assassination" of unarmed Air Force veteran Ashli Babbitt during an interview with NBC News released Monday.

When asked whether or not he "ordered the assassination" of Alexei Navalny, Putin said: "Of course not, we don't have this kind of habit of assassinating anybody, that's [number] one."

"Number two, I want to ask you: did you order the assassination of the woman who walked into the Congress and who was shot and killed by a policeman?" Putin said.

"Do you know that 450 individuals were arrested after entering the Congress?" he continued. "And they didn't go there to steal a laptop. They came with political demands. 450 people have been detained, they are looking at jail time between 15 and 25 years and they came to the Congress with political demands. Isn't that persecution for political opinions?"

WATCH:


[Embed starts at 38:32.]

Not only was Ashli Babbitt executed in cold blood while unarmed but the government refused to charge her killer and to this day is refusing to even release his name!


On Monday, it was reported that the Jan 6 protesters who are still being held in indefinite detention and abused by racist jail guards in DC were placed on "lockdown" for another week in "retaliation" for a Fox News show from Mark Levin aired Sunday that exposed how they're being tortured, locked in solitary confinement and stripped of their rights.

Follow InformationLiberation on Twitter, Facebook, Gab, Minds, Parler and Telegram.