Twitter Censors Nigerian President, Nigerian President Censors Twitter, Twitter Cries 'Censorship'
Chris Menahan
InformationLiberation
Jun. 06, 2021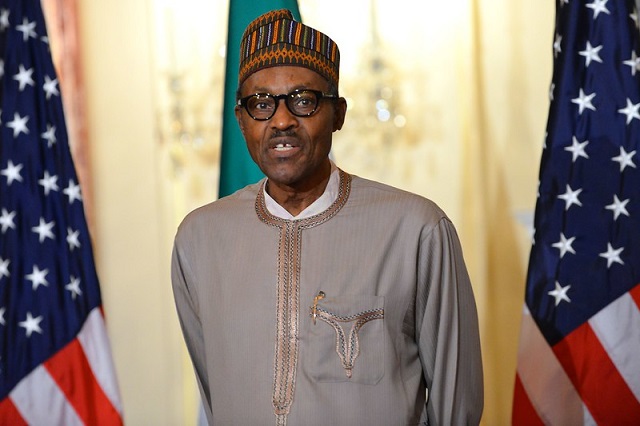 Twitter is working together with the State Department to overthrow the democratically-elected President of Nigeria the same way they worked to overthrow the President of the United States of America.

The big difference is the President of Nigeria is actually fighting back rather than choosing to "monitor the situation."

On Wednesday, Twitter censored Nigerian President Muhammadu Buhari's tweet warning separatists/insurrectionists who have been killing police and attacking Nigerian infrastructure that they're going to be dealt with "in the language they understand."

"Many of those misbehaving today are too young to be aware of the destruction and loss of lives that occurred during the Biafra war," Buhari said in a now-deleted tweet. "Those of us in the fields for 30 months, who went through the war, will treat them in the language they understand."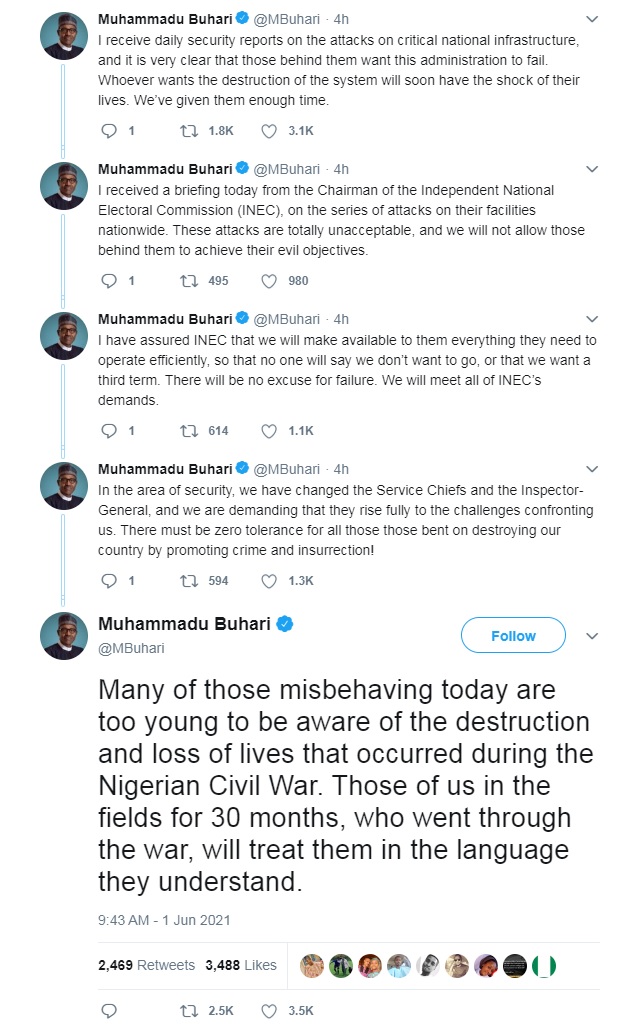 Buhari responded by censoring Twitter and ordering the website be blocked at the ISP level.



In an act of brazen hypocrisy, or perhaps comedic genius, Twitter responded by whining about how *they* were being censored!

"We are deeply concerned by the blocking of Twitter in Nigeria," Twitter tweeted. "Access to the free and #OpenInternet is an essential human right in modern society. We will work to restore access for all those in Nigeria who rely on Twitter to communicate and connect with the world. #KeepitOn."


Does this mean Twitter is guilty of human rights abuses when they blocked the President of the United States and banned all of his supporters?

The State Department made clear the agenda with a statement sent out from the US Mission in Nigeria.

"Nigeria's constitution provides for freedom of expression," the US mission said. "The Government's recent #Twitterban undermines Nigerians' ability to exercise this fundamental freedom and sends a poor message to its citizens, investors and businesses. Banning social media and curbing every citizen's ability to seek, receive, and impart information undermines fundamental freedoms. As President Biden has stated, our need for individual expression, open public conversation, and accountability has never been greater."


Peaceful protesters here in America are being tortured, beaten, racially abused, locked in solitary confinement and held in indefinite detention but the Biden regime is deeply concerned about the "human rights" of insurrectionists killing cops in Nigeria!

They're throwing Americans in prison for as little as taking a selfie and praying inside the Capitol but destroying civilian infrastructure in Nigeria is a legitimate form of protest!

The Biden regime cares deeply about free speech and the Constitution in Nigeria even though here in America they're openly pressuring Twitter and other social media sites to ban right-wingers for "hate speech" in direct violation of the First Amendment and setting fire to the Constitution.

When the US government tries to make appeals to other nations to respect "human rights," all foreign leaders have to do is laugh!


Follow InformationLiberation on Twitter, Facebook, Gab, Minds, Parler and Telegram.