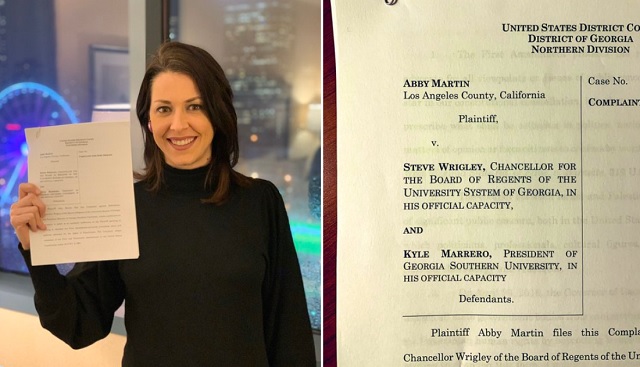 Filmmaker Abby Martin secured a major victory for free speech on Monday after a federal court ruled that her First Amendment rights were violated when she was blocked from speaking at Georgia Southern University in 2016 for refusing to "sign a contractual pledge to not boycott Israel" in compliance with Georgia's anti-Boycott, Divest and Sanctions law.


The law is now reportedly unenforceable but has yet to be struck down.


"I am thrilled at the judge's decision finding this law unconstitutional as it so clearly violates the free speech rights of myself and so many others in Georgia," Abby Martin said in a statement on Twitter. "My First Amendment rights were restricted on behalf of a foreign government, which flies in the face of the principles of freedom and democracy."

Martin continued: "The government of Israel has pushed state legislatures to enact these laws only because they know that sympathy and support for the population they brutalize, occupy, ethnically cleanse and subject to apartheid, is finally growing in popular consciousness -- they want to hold back the tide of justice by preemptively restricting the right of American citizens to peacefully take a stand against their crimes."

"As the world watches Israeli aggression continue in Jerusalem, the West Bank and against the population it besieges in Gaza, it has never been more urgent to advance the Boycott, Divestment and Sanctions movement against the Israeli regime. The striking of this law is a necessary and timely opening to build this urgent task."

From CAIR, "CAIR & PCJF Win 'Major Victory' in Federal Lawsuit Against Georgia's Anti-Israel Boycott Law; Court Rules Anti-BDS Law Violates the First Amendment":

The Georgia chapter of the Council on American-Islamic Relations (CAIR-Georgia), CAIR Legal Defense Fund and the Partnership for Civil Justice Fund (PCJF) today welcomed a "major victory" in their lawsuit against Georgia's Israel boycott law after a federal district court ruled that the State of Georgia's 2016 law punishing boycotts of Israel is an unconstitutional violation of the First Amendment.

In an order released today, Judge Mark Cohen ruled that the University System of Georgia violated journalist and filmmaker Abby Martin's constitutional rights when it cancelled her speaking engagement on a college campus because she refused to sign a state-mandated oath pledging not to engage in boycotts of Israel. Martin is a well-known advocate of the Boycott, Divestment, and Sanctions (BDS) movement against Israel, which the court ruled is protected by the First Amendment.

[NOTE: In 2016, Governor Nathan Deal signed into law SB 327, which requires any person or company that enters into a contract with the State of Georgia worth $1,000 or more to sign a loyalty oath pledging not engage in political boycotts of the Israeli government based on its treatment of Palestinians.]

In his 29-page decision, Judge Cohen identified extensive constitutional problems with Georgia's anti-BDS law. He held that the anti-BDS law "prohibits inherently expressive conduct protected by the First Amendment," which "burdens Martin's right to free speech." Judge Cohen also ruled that the anti-BDS law's requirement that Martin sign an oath to refrain from boycotting Israel is "no different than requiring a person to espouse certain political beliefs or to engage in certain political associations."

The court relied heavily on NAACP v. Claiborne, the Supreme Court's landmark decision protecting the right to boycott.

"This outrageous effort by Georgia politicians to censor free speech rights for a cause they oppose was ruled unconstitutional today," said Partnership for Civil Justice Fund counsel Mara Verheyden-Hilliard. "This ruling comes at a crucial moment, when millions of Americans are questioning the use of U.S.-provided weapons in the onslaught against the Palestinian people and makes clear that the Constitution protects participation in the BDS movement, just as it protected the seminal civil rights and labor organizing boycotts that moved our society forward."
You can read the full ruling here.

The Israeli government has been lobbying for anti-BDS laws in every state in America with huge success over the past several years.

Israeli Prime Minister Benjamin Netanyahu last year bragged about how his government "promoted [anti-BDS] laws in most US states" to punish Americans who refuse to pledge allegiance to Israel.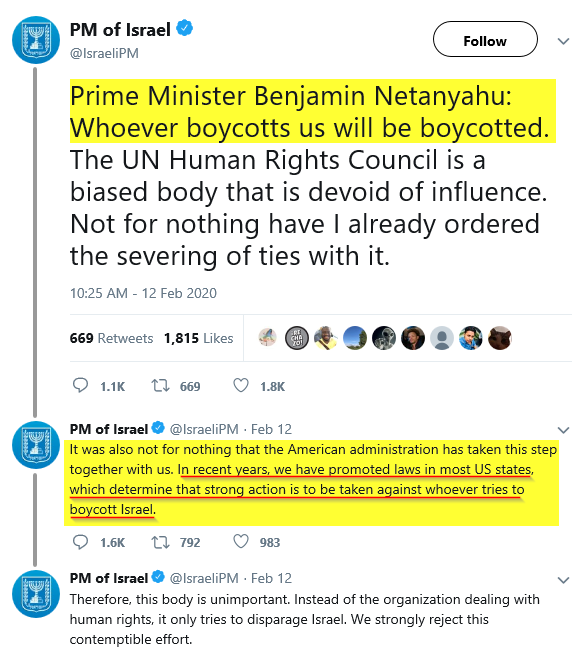 In 2019, Israel's ambassador to the US, Gilad Erdan, bragged about how "our efforts" to shut down Americans' free speech rights were "producing results."

"When I was charged with leading this fight, BDS leaders operated freely and were largely successful in disguising themselves as human rights organizations... We tore off their masks. We exposed their ties to terror, we exposed their deeprooted antisemitism, we exposed their opposition to peace, and we exposed of course their hypocrisy. They couldn't care less about the real human rights violations, for example in Syria and Iran. All they care about is demonizing and delegitimizing the world's only Jewish and democratic state... Our efforts are producing results. 27 US states now have counter-BDS legislation. Let's give a hand to all the governors and state legislators who supported this law. They deserve it."

[...] "We need to take the fight against BDS to the next level. We must encourage investigations of terror-linked BDS groups and promote legislation that counters all forms of anti-Semitism including of course the anti-Semitic delegitimization of Israel."
Imagine the outrage if the government of Russia was getting laws passed throughout our country to ban Americans from boycotting and criticizing Russia!

These laws should be struck down in every state and everyone who voted for them should be kicked out of office!



[This article was updated to clarify the law was not stuck down but made unenforceable.]

Follow InformationLiberation on Twitter, Facebook, Gab, Minds, Parler and Telegram.