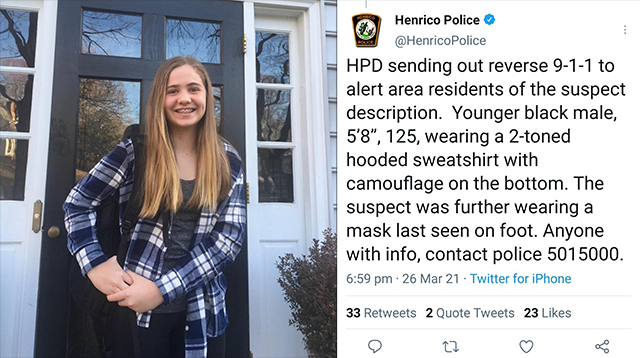 Lucia Whalen Bremer, a 13-year-old girl described by those who knew her as "brave, hardworking, and kind to everyone," was reportedly shot dead while walking in a Virginia suburb on Friday by a thug suspect who may get off easy and have his identity hidden forever because he's a "juvenile."

From The Daily Mail, "Teenage boy is charged with murder of eighth-grade girl who was shot multiple times in Virginia":

A boy has been arrested in connection with a shooting that killed an eighth grade girl in Virginia after a day-long manhunt.

Loved ones identified the victim as Lucia Whalen Bremer, a student at the Quioccasin Middle School in Richmond.

She was shot multiple times on Friday afternoon at the Gayton Forest West subdivision and died at an area hospital soon after.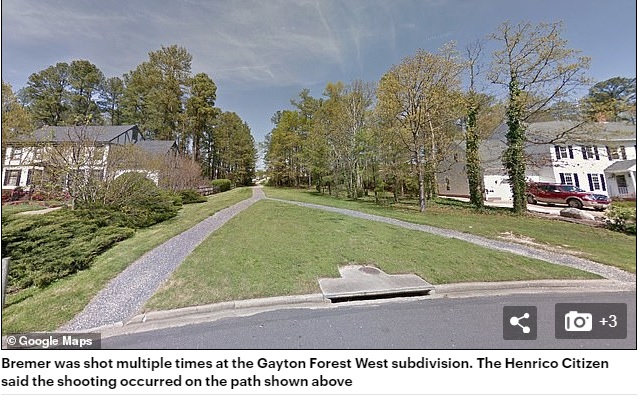 Police said the suspected shooter fled the scene immediately after opening fire and was arrested on Saturday afternoon about a half-mile away.

His name has not been released due to his age but he is said to be facing charges including second-degree homicide, possession of a firearm by juvenile, and use of a firearm in the commission of a felony, according to the Henrico Citizen.

Bremer's family, who run a local produce business called Liberty Tree Farm, announced her death in a Facebook statement on Saturday.
Quioccasin Middle School Principal Melanie Phipps released a heartfelt statement remembering Bremer.

'Lucia was funny. She loved to tell jokes and made people laugh. She was an amazing public speaker, and you would just listen in awe as she spoke. Lucia was wise beyond her years. Talking to her didn't feel like talking to a middle schooler,' Phipps wrote.

'Lucia was exceptional; truly one-of-a-kind. She was brave, hardworking, and kind to everyone. Her smile would light up the entire room.

'In fact, her mother told me that Lucia's name means "light", which is just the perfect way to describe her. She radiated happiness, and she loved our school.'
"Witnesses reported seeing two girls walking along a path, followed by the suspect, then hearing at least five shots," The Henrico Citizen reported. "The suspect ran from the scene, while one of the girls fell after being struck. She later died at a local hospital."

WATCH:



The overwhelming majority of media reports on the shooting neglected to give a description of the suspect but the Henrico Citizen reported that "police described the suspect as a young Black male with bushy hair shaved on the sides, about 5 foot 8 in height with a slight build (about 125 pounds)."


"His identity is being withheld because of his age," Henrico Police said.


There's a great chance we will never know the shooter's identity and he will be released in a few years (if even) due to being a "juvenile."

In neighboring Maryland, two African-American teenage brothers viciously beat 59-year-old John Marvin Weed to death at a county fair and spit on his body because he declined to give them $1.


One killer was placed in a "behavior modification program" and the other got off with probation after a judge ruled they must be tried as juveniles.


UPDATE: NBC 12 reported Monday that the juvenile suspect is 14-years-old.

Henrico County Commonwealth's Attorney Shannon Taylor said that "under Virginia law, the teen suspect could be charged as an adult, but right now that decision has not been made as they work to find more information."

"Then you're also looking at the age of the individual and any prior contacts with the court; any mental health issues we may be dealing with," Taylor said. "Naturally when we talk about a child who is young, of tender age, we do think about -- want to know why does something happen. So, there could certainly be a lot of research or trying to figure out what might cause a young person to do such a horrific act."

Taylor added there is typically a time frame for when a decision to charge as an adult must be made. However, since the suspect has a status hearing scheduled for May 4, it is possible the court could waive that time period to allow both parties the time to seek more information.

Taylor said Henrico County Police are still actively investigating and working with her office to figure out how the teen had a gun in the first place.

On Sunday, Henrico County Police released a statement regarding "inaccurate messages" circulating on social media following the shooting Friday.

"Speculations about the crime being investigated as a hate crime or being gang-related are unfounded," said Chief Eric English. "While homicide investigations are complex and must be investigated thoroughly with a great deal of follow up, at this stage of the investigation, these allegations have no validity or credibility."
It sounds to me like they're considering letting him off easy just as with John Weed's attackers.

Follow InformationLiberation on Twitter, Facebook, Gab, Minds, Parler and Telegram.