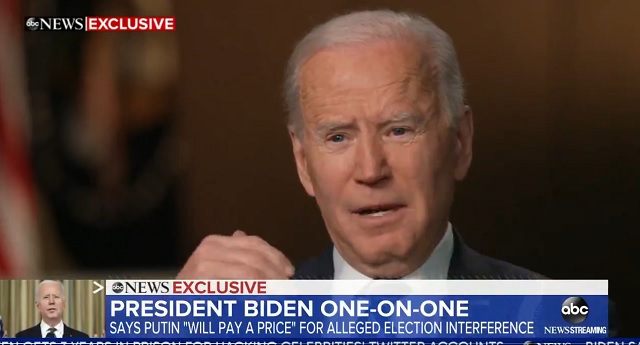 The "adults" are back in the room!


From Zero Hedge:

After a much anticipated and hyped federal investigation and intelligence report into 'Russia-linked cyber attacks' found (gasp... or rather entirely as expected in yet the latest repackaged iteration of long deflated Russiagate) the Kremlin mounted an online 'interference' campaign related to the 2020 election, President Biden said in a bombshell ABC News interview that he agrees Vladimir Putin is a "killer" and that he's going to pay a price. CNN reports sanctions are likely coming, specifically targeting "people close to Russia President Vladimir Putin as soon as next week."

Here's the key part of the pre-recorded interview with George Stephanopoulos which aired early Wednesday:

Asked whether he believes Mr Putin is a "killer" in a pre-taped interview that aired on Wednesday, the president responded: "I do."

"The price he's going to pay, you'll see shortly," he said.

Mr Biden recalled meeting Mr Putin, during which he reportedly told him that he "doesn't have a soul": "I wasn't being a wise guy."

"He looked back at me and said, 'We understand each other'," Mr Biden said.
It sounds like he just wanted to get down to business, Joe.

What is he supposed to say when some buffoon on the edges of power blurts out such idiocy?

Was he supposed to storm out of the room huffing and puffing?

Putin on Thursday made light of these latest comments as well.

From RT, "Putin responds to Biden's insinuation that's he a 'killer': says US President is likely projecting, but 'I wish him good health'":

Russian President Vladimir Putin has wished Joe Biden well after the US leader called him a "killer" and promised that Moscow would "pay the price" for interfering in the 2020 US elections in favor of his opponent, Donald Trump.

Speaking on Thursday, Putin suggested that Biden may be projecting, noting that evaluating other countries "is like looking in a mirror."

"When I was a kid, when we were arguing with each other in the playground, we used to say, 'Whatever you say [about others] is what you are yourself,'" Putin added.

On Wednesday, Biden was asked by ABC News anchor George Stephanopoulos whether he thought Putin was "a killer," and replied in the affirmative. He also noted that he had warned the Russian president that Washington would react strongly if it discovered evidence of interference in the 2020 presidential election.

Later that day, White House Press Secretary Jen Psaki refused to clarify whether Biden's statement was a metaphor.

In response, Kremlin spokesman Dmitry Peskov described Biden's statement as "very bad," accusing the White House of not being serious about "establishing a relationship" with Moscow.
Biden is deliberately antagonizing the world's second nuclear power... because they allegedly made him look bad on the internet?

Our two countries could literally get into a nuclear war by accident, as nearly happened in 1983 as a result of a false alarm.



Biden is clearly not of sound mind -- that's probably why Democrats are trying to take away his sole authority to initiate a nuclear war.


"This is a new low point in diplomacy," former Reagan official Paul Craig Roberts said in response to Biden's provocative comments. "It does not serve American interests or peace."

He continued:

Yesterday a CIA-Homeland Security report was declassified. The "report" is blatant propaganda. It alleges that Russia interfered in the 2020 election with the purposes of "denigrating President Biden's candidacy and the Democratic Party, supporting former President Trump, undermining public confidence in the electoral process, and exacerbating sociopolitical divisions in the US." "Russiagate" is still with us despite the failure of the three-year Mueller investigation to find a scrap of evidence.

We desperately need a new Team B like the one the CIA commissioned in 1976 to check on itself. But in those days discussion and debate was possible. Today they are not. We live in a world in which only propaganda is permitted. There is an agenda. The agenda is regime change in Russia. No facts are relevant. There will be no Team B to evaluate whether the Putin threat is exaggerated.

The anti-Russian craze that has been orchestrated in the US and throughout the Western world leaves the US in an extremely dangerous situation. Americans and Europeans perceive reality only through the light of American propaganda. American diplomacy, military policy, news reporting, and public understanding are the fantasy creations of propaganda.

The Kremlin has shown amazing forbearance of Washington's inanities and insults. It was the Democrat Hillary Clinton who called President Putin the "new Hitler," and now Democrat Biden calls Putin "a killer." American presidents and presidential candidates did not speak of Soviet leaders in these terms. They would have been regarded by the American population as far too deranged to have access to the nuclear button.

Sooner or later the Kremlin will understand that it is pointless to respond to demonization with denials. Yes, the Russians are correct. The accusations are groundless, and no facts or evidence is ever provided in support of the accusations. Sooner or later the Kremlin will realize that the purpose of demonizing a country is to prepare one's people and allies for war against it.

Washington pays no attention to Maria Zakharova and Dmitry Peskov's objections to unsubstantiated accusations.

When "sooner or later" is, I do not know, but the Russians haven't reached that point. The Kremlin reads the latest allegations as an excuse for more sanctions against Russian companies and individuals. This reading is mistaken. Washington's purpose is to demonize Russia and its leadership in order to set Russia up for regime change and, failing that, for military attack.

In the United States Russian Studies has degenerated into propaganda. Recently, two members of the Atlantic Council think tank, Emma Ashford and Matthew Burrows, suggested that American foreign policy could benefit from a less hostile approach to Russia. Instantly, 22 members of the think tank denounced the article by Ashford and Burrows.

This response is far outside the boundaries of the 20th century Cold War. It precludes any rational or intelligent approach to American foreign policy. Sooner or later the Kremlin will comprehend that it is confronted by a gangster outfit of the criminally insane. Then what happens?
Good question.

As I reported on yesterday, CIA mouthpiece Kevin Carroll is now penning columns in the Washington Examiner telling "Irish Americans" to get ready to sacrifice their lives in a war with China.

How many salt of the earth Americans want to fight and die for a regime in Washington that smears them endlessly as "domestic terrorists" and "white supremacists" just because of their race?



Follow InformationLiberation on Twitter, Facebook, Gab, Minds, Parler and Telegram.