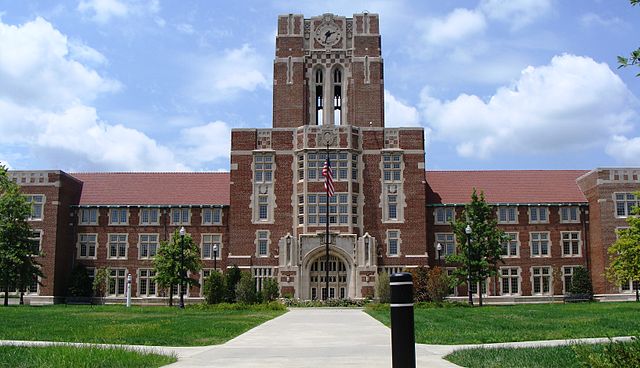 "White privilege" means having your life derailed for singing the lyrics to a rap song on Snapchat to a friend when you were 15 years old.


[Tweet archived here, Twitter suspended the user's account.]

The New York Times reported this act of petty revenge as a racial "reckoning."

From The New York Times, "A Racial Slur, a Viral Video, and a Reckoning":

LEESBURG, Va. — Jimmy Galligan was in history class last school year when his phone buzzed with a message. Once he clicked on it, he found a three-second video of a white classmate looking into the camera and uttering an anti-Black racial slur.

The slur, he said, was regularly hurled in classrooms and hallways throughout his years in the Loudoun County school district. He had brought the issue up to teachers and administrators but, much to his anger and frustration, his complaints had gone nowhere.

So he held on to the video, which was sent to him by a friend, and made a decision that would ricochet across Leesburg, Va., a town named for an ancestor of the Confederate general Robert E. Lee and whose school system had fought an order to desegregate for more than a decade after the Supreme Court's landmark ruling.
Leesburg was named after Thomas Lee, not Robert E. Lee. The Times just threw that line in there to make Galligan's actions seem less pathetic and petty.
"I wanted to get her where she would understand the severity of that word," Mr. Galligan, 18, whose mother is Black and father is white, said of the classmate who uttered the slur, Mimi Groves. He tucked the video away, deciding to post it publicly when the time was right.

Ms. Groves had originally sent the video, in which she looked into the camera and said, "I can drive," followed by the slur, to a friend on Snapchat in 2016, when she was a freshman and had just gotten her learner's permit. It later circulated among some students at Heritage High School, which she and Mr. Galligan attended, but did not cause much of a stir.

Mr. Galligan had not seen the video before receiving it last school year, when he and Ms. Groves were seniors. By then, she was a varsity cheer captain who dreamed of attending the University of Tennessee, Knoxville, whose cheer team was the reigning national champion. When she made the team in May, her parents celebrated with a cake and orange balloons, the university's official color.

The next month, as protests were sweeping the nation after the police killing of George Floyd, Ms. Groves, in a public Instagram post, urged people to "protest, donate, sign a petition, rally, do something" in support of the Black Lives Matter movement.

"You have the audacity to post this, after saying the N-word," responded someone whom Ms. Groves said she did not know.

Her alarm at the stranger's comment turned to panic as friends began calling, directing her to the source of a brewing social media furor. Mr. Galligan, who had waited until Ms. Groves had chosen a college, had publicly posted the video that afternoon. Within hours, it had been shared to Snapchat, TikTok and Twitter, where furious calls mounted for the University of Tennessee to revoke its admission offer.
A lot of good that virtue signalling did you!
By that June evening, about a week after Mr. Floyd's killing, teenagers across the country had begun leveraging social media to call out their peers for racist behavior. Some students set up anonymous pages on Instagram devoted to holding classmates accountable, including in Loudoun County.
Doxing little kids to deranged social media hate mobs is holding them "accountable," according to the NY Times' Dan Levin.
The consequences were swift. Over the next two days, Ms. Groves was removed from the university's cheer team. She then withdrew from the school under pressure from admissions officials, who told her they had received hundreds of emails and phone calls from outraged alumni, students and the public.

"They're angry, and they want to see some action," an admissions official told Ms. Groves and her family, according to a recording of the emotional call reviewed by The New York Times.

Ms. Groves was among many incoming freshmen across the country whose admissions offers were revoked by at least a dozen universities after videos emerged on social media of them using racist language.
A bunch of "racist" Snapchats which went viral were faked by troglodytes for purposes of petty revenge.
Ms. Groves said the video began as a private Snapchat message to a friend. "At the time, I didn't understand the severity of the word, or the history and context behind it because I was so young," she said in a recent interview, adding that the slur was in "all the songs we listened to, and I'm not using that as an excuse."
Here's a song on YouTube with 336 million views (and no age gate restrictions) which uses the word "n*gga" 121 times in under 4 minutes.

For his role, Mr. Galligan said he had no regrets. "If I never posted that video, nothing would have ever happened," he said. And because the internet never forgets, the clip will always be available to watch.

"I'm going to remind myself, you started something," he said with satisfaction. "You taught someone a lesson."
I assure you, the lesson people are learning is not the one you want them to learn.

[Header image by Nightryder84 via Wikimedia Commons]

Follow InformationLiberation on Twitter, Facebook, Gab, Minds and Parler.