Blue Cheka Journo Rats On Church For Holding Services in Defiance of Lockdown
Chris Menahan
InformationLiberation
Nov. 30, 2020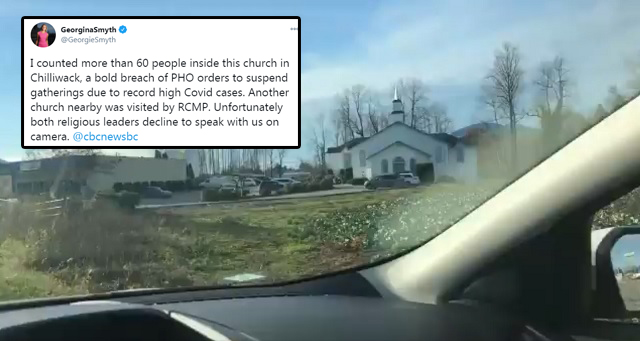 A journo with CBC News filmed herself ratting out worshipers at a Church in Chilliwack, British Columbia on Sunday in a remarkably pathetic and disturbing scene.

"I counted more than 60 people inside this church in Chilliwack, a bold breach of PHO orders to suspend gatherings due to record high Covid cases," Georgina Smyth tweeted on Sunday. "Another church nearby was visited by RCMP. Unfortunately both religious leaders decline to speak with us on camera."

Smyth shared video of herself spying on the Church from afar while keeping a tally of every Christian who left:


The "bombshell" video showed families standing around peacefully and happy children running around and playing in the Church's parking lot.

Smyth made clear her intention was to get the Churchgoers persecuted for worshiping our Lord and Savior Jesus Christ by retweeting a bunch of stories about other Churches in the area being fined by the corona cops.





This is "journo-ism" in the current year. Most journo-ists are nothing more than Cheka operatives who rat out dissidents on behalf of our ruling class.

Does anyone think Georgina Smyth would ever stake out a mosque or a synagogue to report them to the police?

Odds are if she did she would be facing hate crime charges!

As I reported last week, another Canadian journo staked out a small restaurant for opening in defiance of Ontario government corona lockdown orders.

The restaurant owner, Adam Skelly, was later taken away in handcuffs.


While megacorporations like Amazon are allowed to gobble up all small businesses deemed "unessential" and Black Lives Matter are allowed to riot in the streets, Christians are being persecuted for going to Church and small business owners are being arrested just for trying to feed their families!


Follow InformationLiberation on Twitter, Facebook, Gab, Minds and Parler.