'Astounding': Biden Scores Insane Advantage In Mail-In Ballots In Michigan And Pennsylvania
Chris Menahan
InformationLiberation
Nov. 06, 2020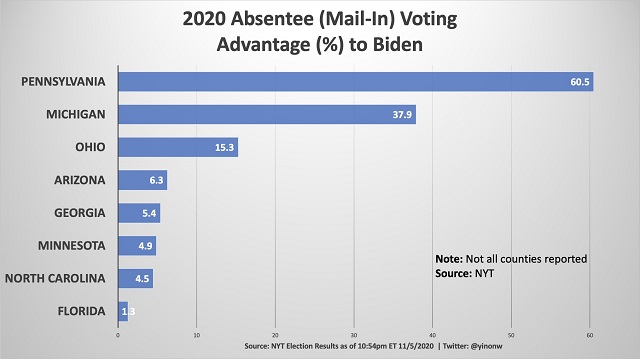 Joe Biden got a shocking 60-point advantage over Donald Trump in absentee mail-in ballots in Pennsylvania and 38-point advantage in Michigan according to data compiled on Thursday but received no similar massive advantage in other swing states like Ohio, North Carolina, Florida or Minnesota.

Yinon Weiss on Thursday shared the "astounding" results, which he sourced directly from the New York Times.


Michigan's results are remarkable considering Republicans actually requested more mail-in ballots than Democrats (41 Republican, 39 Democrat, 20 Other), according to data shared on NBC News.




Pennsylvania was a similar story. Despite the results above indicating Biden won mail-in ballots 80-20, the requests for mail-in ballots were 63 Democrat, 25 Republican and 12 Other.




This morning, three days after the election, Biden took the lead in Pennsylvania due to mail-in ballots, erasing the nearly 700,000 vote advantage President Trump had after Election Day.

Incidentally, Pennsylvania Attorney General Josh Shapiro called the race for Biden before even a single vote was counted in the state.


Trump's post-Election Day lead in Michigan of nearly 290,000 votes similarly evaporated, as well as his lead of around 100,000 votes in Wisconsin and his around 60,000 vote lead in Georgia.


As Weiss noted, the results in his charts are subject to change as not all counties have been reported but judging by what we've seen over the last three days it seems like they could shift even more in Biden's favor.

This strikes me as a huge red flag which should demand an investigation.

Follow InformationLiberation on Twitter, Facebook, Gab and Minds.