Dems Caught Cheating In Philly? Poll Watchers 'Blocked,' Philly GOP Raises Alarm [UPDATED]
Chris Menahan
InformationLiberation
Nov. 03, 2020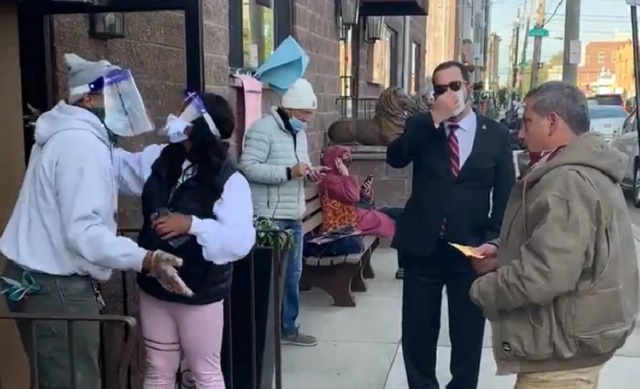 Within minutes of polls opening in the crucial swing state of Pennsylvania, Democrats were accused of illegal electioneering, handing out Democrat voting guides to voters who were in line to vote and blocking GOP poll watchers in the notoriously corrupt city of Philadelphia.

*****

UPDATE: This post has been updated to reflect a lack of clarity in some of the contested instances below.

There is no question a polling place was caught wrongly rejecting a GOP poll watcher but some of the Philly GOP's posts have been disputed by Philly officials and censored by Twitter.

The previous header image used on this article allegedly showing a Democrat voter guide being handed out to voters waiting in line is being hotly contested.

The images showing a Democratic voter guide on the outside of a polling site in Northeast Philly were declared "deliberately deceptive" by Philadelphia DA Josh Shaprio's Office as they claim it happened further than 10 feet from an "interior room" inside the building where they say the official polling place was located.

***Original article follows with updates and corrections***

First, they were accused of illegally electioneering with giant signs telling people to vote for Democrats outside a polling place in Northeast Philly:


As noted above, AG Shapiro's office claimed the polling site was inside the building and more than 10 feet away.



There were multiple similar questionable signs:


Next, it was claimed that GOP poll watchers were walled off from the vote counting tables at a vote counting site with "no way to actually observe."


The Philly GOP reported that polling places in Northeast Philly were not opened at 7:00AM as they were supposed to be, forcing people who had to go to work (see: Republicans) to leave.





Disturbing video was released showing a GOP poll watcher being forbidden from entering a polling place despite having proper paperwork:


Philly Democrats were allegedly seen handing out Democrat voting guides inside a polling place in Philly.


Democrat Philadelphia DA Josh Shaprio's Office said that post was "deliberately deceptive" and their investigation determined the incident happened further than 10 feet from an "interior room" where the official polling place was.

An alleged "Democratic committeewoman" in north Philly was filmed wearing a Biden mask and reportedly would not let GOP poll watchers into a polling place.


Pennsylvania Attorney General Josh Shapiro (D), who announced on Saturday before a single vote had been counted that Joe Biden was going to be the winner of the election, was lambasted by Richard Grenell for "weaponizing his office against his opponents" by "characterizing Republican poll workers as a form of [voter] intimidation."


Philly GOP also caught two people inside of one voting booth:





The Philly GOP reported that voting machines were down in pro-Trump strongholds:



This is outrageous!

Democrat voter fraud could decide the election!




UPDATE: Twitter is now censoring the Philly GOP for documenting potential voter fraud and blocking their post from being shared!


UPDATE II: Philadelphia City Commissioners claimed they will investigate the incident where a GOP poll watcher was blocked from entering a polling place in Northeast Philly.


"A spokesperson with the Commissioner's office told Buzzfeed reporter Jane Lytvynenko that the poll worker was going off of a previous law which assigned poll watchers to specific wards, which the spokesperson called an 'honest mistake,'" The Daily Caller reported. "They also said that the poll watcher was later allowed to enter."

UPDATE III: The Philly DA's office came out to investigate PG Howie for "voter interference" and ignored the Democrats' blatant electioneering!


UPDATE IV:


UPDATE V [NOTE: THIS APPEARS TO HAVE BEEN TROLLING, SEE BELOW]:




UPDATE VI:



UPDATE VII: Buzzfeed "fact checker" Jane Lytvynenko had to embarrassingly retract a phony fact check she made trying to debunk the story above about a GOP poll watcher being illegally denied access to a polling place in Northeast Philly:



Twitter censored this deleted thread above from Courtney Holland:





Amy Dalessandro, an election coordinator at Erie County Courthouse, said he is not one of their poll workers and is not registered to vote in Erie PA.


UPDATE VIII:


Follow InformationLiberation on Twitter, Facebook, Gab and Minds.