NYT: Trump to Nominate Amy Coney Barrett to Fill Vacant Supreme Court Seat
Chris Menahan
InformationLiberation
Sep. 25, 2020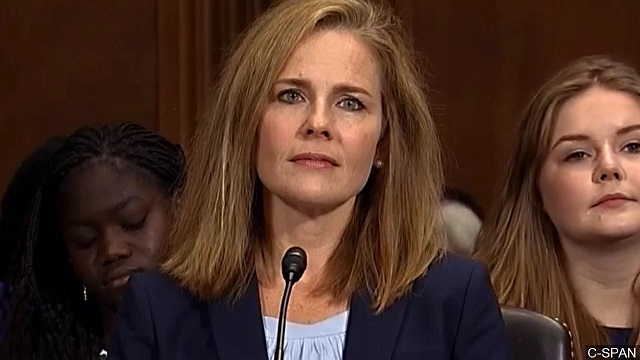 President Donald Trump is planning to nominate Judge Amy Coney Barrett to fill the Supreme Court vacancy resulting from Ruth Bader Ginsburg's death, according to the New York Times.

From NY Times:

Mr. Trump plans to announce on Saturday that [Judge Amy Coney Barrett] is his choice, according to people close to the process who asked not to be identified disclosing the decision in advance. The president met with Judge Barrett at the White House this week and came away impressed with a jurist that leading conservatives told him would be a female Antonin Scalia, referring to the justice who died in 2016 and for whom Judge Barrett clerked.

As they often do, aides cautioned that Mr. Trump sometimes upends his own plans. But he is not known to have interviewed any other candidates for the post.
WSJ is also reporting Trump is going to pick Barrett.


I don't have particularly high hopes for the Supreme Court after Gorsuch and Roberts joined with the leftists to reinterpret the 1964 Civil Rights Act to make trangenders a protected class.

That said, the GOP appear to have the votes to get her through.

It'll be interesting to see the men the Democrats bring forward to claim she raped them decades ago!

Follow InformationLiberation on Twitter, Facebook and Gab.